Minister of Business Development and Tourism Wayne Furbert announced the 2011 year end visitor statistics. Some of the highlights included: total visitors up 12%; 655,236 visitors in 2011 – the second highest in history; air arrivals up by almost 2% with 236,038 tourists flying to the Island; cruise visitors up 19%; and convention incentive groups up by 116%.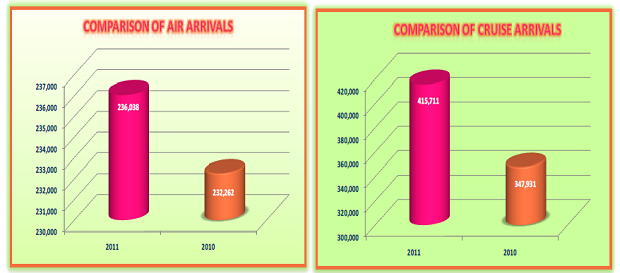 A full report was released which started out saying, "Bermuda's total visitor arrivals achieved for 2011 was the second highest in history, only surpassed by the performance of 2007.
"The Island saw 655,236 visitors arriving for the year, representing an increase of almost 12%. This can be directly attributed to a booming cruise season which saw record cruise visitors to Bermuda for the year 2011.
"Air arrivals were up by almost 2% with 236,038 tourists flying to the Island during this period. After four successive years of decline, and albeit a modest one, this was the first positive air arrival result since 2007. Visitors from the all important market of the United States and Europe increased in 2011 while all other regions (Canada, UK and the Rest of the World) saw decreases."
The Minister's full statement follows below:
Ladies and Gentlemen, thank you for being here today.

As you all know, at the beginning of November, just a little over three short months ago, I was asked by our esteemed Premier, the Hon. Paula A. Cox, to serve our country in the role of Minister of Business Development and Tourism. This was a role I gladly accepted as I understood that these two key pillars – the development of business and growth of tourism – were of vital importance to the well being of this great country.

At that time, many of you may remember me saying that I was excited and eager to get things moving and to push ahead. Well, ladies and gentlemen, that excitement has continued to grow over these past few months and they tell me my excitement and energy is being felt throughout our tourism industry. It is an excitement borne from hard work and an immersion into an industry of which I am confident is on the rise, and knowing that its best days are ahead of us.

Since taking on this new challenge, I have had the opportunity to see firsthand the passion and love that people have for Bermuda. Just days into the job I traveled to London to join representatives of our industry at the WorldTravel market. That trip introduced me to many consumers and travel influencers alike who spoke so highly of our country. The trip even allowed me to sing Bermuda's praises myself – literally.

I traveled to our number one market as well, the New York metropolitan area – where I again met members of the media, travel industry and consumers who so fervently love Bermuda.

Throughout these last three months, I have also been so gratified to hear so many positives about our destination and witness the hard work being done by the Department of Tourism and our partners throughout the tourism industry to help improve our fortunes.

This is a team effort and our public and private sector partnership is so vital to our success. There is so much effort that goes into selling and promoting this destination at a time when the competition has never been more intense.

There are still too many people overseas who do not know us as well as they should or feel the sense of urgency to pay us a visit. It is those individuals who present the challenge, and ladies and gentlemen, I am here to tell you, that there is nothing I like more, than a challenge.

So today, I am here to share with you the fruits of our labor over this past year, as well as to look ahead to the remainder of 2012 and what I believe will be a very successful year for Bermuda Tourism.

Summary:

We were up 12% in Total Visitors
655,236 visitors came to our shores in 2011, the second highest in history
Air arrivals were up by almost 2% with 236,038 tourists flying to the Island
Cruise Visitors up 19%
Convention incentive groups soared a massive 116%
Vacation travelers increased by 1%,
Business travelers increased by 0.3%
Those visiting the island for other reason increased by 5%.
Visitors from the US and Europe increased in 2011 while (Canada, UK and the rest of the world) saw decreases.
Canada was down due to a four flight per week decrease in air service during the summer months out of Toronto. This contributed to the 4% decline in visitor arrivals from the Canadian market, compared to 2010. Nevertheless Canadian air arrivals of 29,217 were the second highest performance from this market for the past 10 years.
With AirTran coming out of Atlanta and Baltimore. Visitor arrivals from Georgia and Maryland increased by 53% and 36% respectively. The positive arrival results of 4% from the USA were the best performance from this market since 2008.
Private homes total average nights down slightly from 6.21 nights to 6.06 nights.
Visitors staying in commercial properties, however, remained constant at 4.94 nights.
There was a 3.6% increase in visitors staying in paid accommodations.
Yacht visitors dipped by 31% in 2011 due mainly to the bi-annual Newport to Bermuda race that took place in 2010. The race will be held again in 2012.
Performance results of the ten largest hotels that make up 75% of all room inventory on the island also mirrored the positive performance trends for 2011. Occupancy percentages for all four quarters of the year were positive with overall occupancy percentage increases of 3%, 3%, 9% and 5% respectively.
Visitors' arrival for January 2012 is up.
Hotel occupancy for February is so far showing to be a positive month with possible gain of 5%.

As I said earlier, the amount of work and effort put into promoting our destination is tremendous and I would like to take some time to provide some highlights of those efforts and our successes in 2011.

Awards:

Bermuda was once again voted "Best Island in the Caribbean/Atlantic" by readers of Condé Nast Traveler magazine.
The Reefs, was voted favorite resort in the Atlantic.
Other properties faring well among the Top 15 Resorts in The Atlantic were Rosewood Tucker's Point, Pink Beach Club, Fairmont Southampton and Cambridge Beaches.
Bermuda was ranked sixth among the world's top 20 honeymoon destinations by the readers of Brides magazine; the world's most widely read bridal publication.
We were, in fact, ranked ahead of all Caribbean destinations and behind only exotic Pacific and Mediterranean destinations such as Hawaii, Fiji and Italy.
The Department of Tourism was awarded the 2011 Gold Service Award by the Subscribers of the Meeting & Convention magazine.
Similarly, Successful Meetings magazine once again awarded Bermuda with its coveted Pinnacle Award.
The Department of Tourism was also honoured for public relations excellence by the Hospitality Sales & Marketing Association International's Adrian Awards, the largest and most prestigious travel marketing competition globally.
The CBS Bermuda Ambassadors campaign delivered a prestigious W3 Radio "Silver" Award for the Island in recognition of the innovative use of our local personalities now in its second year.
Trip Advisor readers and raters voted The Royal Palms, Pompano Beach Club and The Rosedon Hotel into the "Top 25 Hotels for Best Service in the Caribbean" poll. Pompano Beach Club was also ranked seventh overall in the "Top 25 Caribbean Hotels" category. All three hotels are owned and managed by Bermudians.
Most recently, Expedia recognized Bermuda as Destination of the year beating out many larger destinations because of our spirit and attitude in projecting the needs of the island.

So, as you can see, it is not just me and the Department of Tourism out there singing Bermuda's praises. Our reputation is, in fact, outstanding.

We continue to look at the way our customers like to communicate with us and with each other. In today's world, there is no doubt that social media has exploded and continues to grow.

In December we launched our new blog, used to spotlight local activities, events, testimonials and profiles in a personal, narrative fashion.

Facebook audience has grown to 12,000 fans a 90% year over year increase.

Twitter as a resource and have gained 1,304 followers during 2011, as a result of increased outreach and constant engagement, a 153 % year over year increase.

Recognizing that a picture is worth a 1,000 words, we have also increased the number of photos available on our Flickr channel to 347 in 2011, allowing us to display the natural beauty of our island and highlight local events and businesses.

As a result of increased activity and sharing of these photos across our social channels, we saw over 15,000 views in the month of December alone.

I mentioned video earlier as well in terms of our advertising, but we are also utilizing video in our social media outreach. In 2011, 13 videos created by our on-island communications team were published to Bermuda's YouTube channel, all of which have also been distributed across the web via Bermuda's multiple social channels

Ladies and gentlemen, as we look ahead to 2012, we do so with much optimism.

As announced recently, all is on track for the completion of the National Tourism Plan by May of this year. Several initiatives cited in the interim Strategic Imperatives Report are being actioned and I will be pleased to make some announcements in the near future.

In particular I plan to announce the new advertising agency of record for Bermuda, before the end of February. As you know this agency will be tasked to come up with new brand concepts and advertising creative that will take us forward.

We will once again offer outstanding returning events for our visitors such as the PGA Grand Slam of Golf returning for its sixth year from October 22 – 24.

We look forward to the Bermuda Corporate Games, which we anticipate will bring thousands of people to our shores.

Our overall sales and marketing efforts have already hit the ground running with aggressive initiatives such as our winter 50% Off Pink Sale which was supported with public relations, e-blasts, newspaper and radio advertising, and web support.

It generated an immediate spike to our web site traffic which increased more than 100% during the launch period and generated extensive publicity exposure.

We have just launched our Tee4Free golf programme which is being promoted through multiple channels as well.

Our destination broadcast advertising is in full swing with 277 TV spots running through the month of February and newspaper and magazine ads that are reaching more than 17 million consumers.

We're capturing the eyes of commuters as well through creatively wrapped streetcars and trolleys in Boston and Toronto which will be hard to miss with their colorful designs. And we continue an emphasis on the digital world with efforts that will generate over 30 million impressions.

We are getting more creative with the introduction of streaming radio and dynamic video ads and we're targeting our consumers even more precisely with our first-ever mobile ads that can be as focused as a five-mile radius for our upcoming NY Grand Central Terminal event.

On that topic, I will be leaving shortly to take part in our second annual guerrilla event at the iconic transit hub on Thursday, February 16, with the goal to entice winter-weary tri-state area commuters to warm up on our island's pink sand beaches.

I will be hosting a dozen of the top American travel media outlets for an intimate roundtable luncheon while in Manhattan, with outlets including Travel + Leisure, Conde Nast Traveler, Departures, Worth, ABC News Now and Forbes Life.

We will continue to seek high profile publicity opportunities and we are currently working to finalize an extremely popular network television programme to shoot in Bermuda with the potential to reach more than 14 million viewers.

Our sales team will be very active again in 2012 and they already report 13 definite groups representing more than 1,200 visitors and 3,000 room nights on the books for 2012. An additional 38 groups are already in the consideration pipeline.

The team will be working closely with our airline partners supporting returning service such as AirTran from Baltimore, JetBlue from Boston, and US Airways from Washington. It is encouraging that Bermuda has managed to maintain its airlift from its key gateways for another year, our only loss being the AirTran's Atlanta service.

From a product development standpoint, upcoming special test programmes such as Spring Break for current university students, and the inaugural College Weeks Reunion have been created to reach both a new and younger audience who may be experiencing Bermuda for the first time, as well as those with happy memories of the island who are being enticed to come back and rediscover the place of their own youth.

We will be modernizing the Hotel Concessions Act, as well as placing an emphasis on the promotion of local entertainment.

We are actively working with some developers to build some New Hotels, because of your disappointments in the past; I will not be announcing any until I am sure everything is in place.

We want to continue to engage and inform our partners in the industry on our efforts and learn how we can better serve them, both locally and abroad. As such, I am pleased to tell you that in the increased spirit of urgency and sharing of information I have pulled forward our annual Industry night to the 4th of April. This will allow us to share planned activity as well as introduce our new advertising agency to the stakeholder community.

Ladies and gentlemen, I am pleased to report that the outlook ahead for 2012 looks strong indeed. In fact we have been informed that several of our key partners are pacing upwards as we go into 2012.

For example, WestJet Vacations is up 113%, Expedia, our largest producer is up 31%, and Orbitz is up 7%. This is good news indeed for our destination and it is with renewed energy, spirit and optimism that we move forward into 2012.

There is much work to be done ahead, but I am confident that we have the spirit and, most importantly, the ability to achieve success and I call on all Bermudians to not limit your vision by negativity, for the extent of your vision will decide the extent of our success.

Standby for more exciting things that we are in the process of fine tuning, for I believe, the best is yet to come.

Ladies and gentlemen, at this time, I take this opportunity to introduce a new initiative that I have implemented called 'Unsung Heroes'. The aim of this programme is to recognize individuals in our community that do not directly work within the tourism industry but carry out deeds that impact the industry directly or indirectly. 'Unsung Hereos' will be recognized on a quarterly basis.

Our first 'Unsung Hero' is Mr. Wilfred Llewellyn Furbert. Mr. Furbert is recognized for his efforts to create a welcoming environment for our visitors to learn about our history and culture. His contribution to clearing and cleaning the area overlooking the former limestone quarry at Cut Road in St. George's has provided a scenic area for visitors and tour operators to share the rich traditions of Bermuda.

Thank you
-
The full 24-page report is below, click 'Fullscreen' for greater clarity:
Read More About