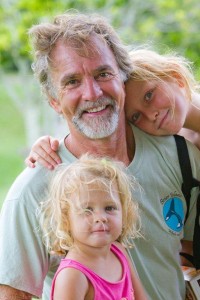 Little Bermuda school girl Elsa Stevenson is just eight-years-old and less than five-feet tall. But she is shown swimming with some of the most enormous — and gentle — whales in the world in this video footage.
Elsa, whose father Andrew Stevenson is founder of the Bermuda Humpback Whale Project, swam with the enormous mammals during a family visit to the whales' Caribbean breeding grounds.
Humpacks can reach lengths of up to 52 feet and weigh between 30 and 50 tons.
Elsa is featured in her father's award-winning documentary  "Where The Whales Sing" and its companion book about the humpbacks' annual migratory journey through Bermuda's waters "Whale Song" [she is pictured with her father and sister here].
"Her first time in the water and Elsa had an encounter for an hour and a half with a female, her calf and escort," said Mr. Stevenson. "At times they seemed more interested in her than vice versa. I am sure they recognised that she was a human 'calf'. The mother repeatedly swam towards us within ten feet and less to look while her calf hid underneath. Elsa also used her own underwater camera to film two 'dancers' that danced around us, apparently more interested in wooing us than each other. This was her favourite experience.
"For a year and a half Elsa has been a member of a swim club and swims three times a week, one and a half hours per session, to become proficient enough at swimming that I would take her with me. In the end, she was like a squid, darting about here and there and with my 55-pound camera I was incapable of keeping up with her."
Mr. Stevenson said in the video you can see the mother swimming up to him and Elsa — of her own volition — and reaching out in front of her with her pectoral fin to both determine the distance to he and Elsa as well as to establish her own space.
"You can also see us backpeddling," he said. "She did this a number of times, circling around to swim up to us.
"That's one of the reasons I think we have a particular affinity for the humpbacks, and vice versa. Unlike the other whales, humpbacks' pectoral fins are long enough to be used as tools, to lovingly embrace a calf and hold it close, to using their barnacle-encrusted fins as weapons to fight off Orcas."
Elsa Stevenson swimming with humpback whales: 
Read More About
Category: All, Environment, News, Videos