[Updated: Play ended for the day at 7.30pm] The 2012 Annual Cup Match Classic is underway, with challengers Somerset winning the toss and have sending in the defending champions St. George's Cricket Club to bat. The scorecard will not exactly reflect the real time scores, they will often be 5 minutes or so behind. View all our Cup Match coverage here.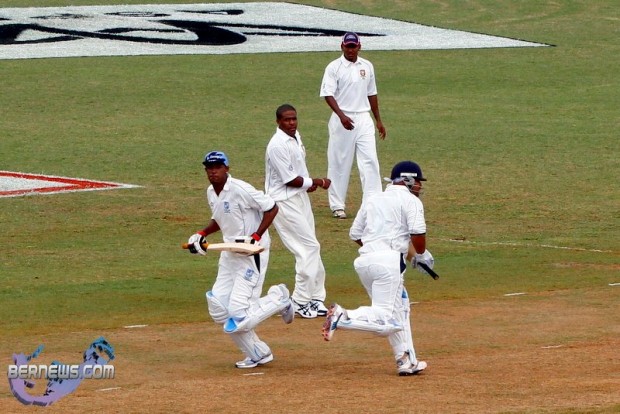 At the Tea Break St. George's had reached 201/7, Glenn Blakeney Jr was out for 68 taking him into the 600 runs for his Cup Match career, his half century came off 65 deliveries. Colt Treadwell Gibbons Jr. showed no signs of nerves as he stroked a confident 41 before being caught. Allan Douglas Jr. was out just before Tea bowled for 29, with Justin Pitcher joining captain Lionel Cann at the wicket. Cann needs only 4 runs to make a career 1000 Cup Match runs.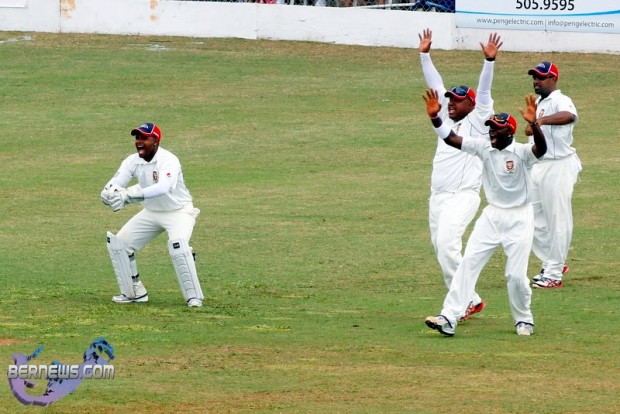 Former Somerset captain Janeiro Tucker has been a thorn in the St. George's Cricket Club side as he came on the ball and claimed vital wickets, he has figures of 10-0-22-4, while Derek Brangman has figures of 12-0-43-2 the only other Somerset Cricket Club bowler to grab a wicket is Jacobi Robinson who has figures of 16-3-62-1.
Close of Play: St. George's Cricket Club 219 Somerset Cricket Club 100/2
St. George's Innings
..41 Treadwell Gibbons c Derek Brangman b Janeiro Tucker
..24 Jason Anderson b Derek Brangamn
..00 Fiqre Crockwell LBW Janeiro Tucker
..68 Glenn Blakeney c Jacobi Robinson b Janeiro Tucker
..06 Rodney Trott c Chris Douglas b Derek Brangman
..13 Delyone Borden c Chris Douglas b Jacobi Robinso
..29 Allan Douglas Jr. b Janeiro Tucker
..08 Lionel Cann b Janeiro Tucker
..05 Justin Pitcher c Jacobi Robinson b Janeiro Tucker
..09 Stefan Kelly Not Out
..05 Kyle Hodsoll c Greg Maybury b Malachi Jones
..11 Extras (3nb-3w-3lb-2b)
219 Total All Out after 63 overs
Fall of Wickets: 1-57 (Gibbons), 2-57 (Crockwell), 3-94 (Anderson), 4-128 (Trott), 5-159 (Borden), 6-183 (Blakeney), 7-198 (Douglas), 8-201 (Cann), 9-214 (Pitcher)
Somerset Bowlers
8.0-1-22-1 Malachi Jones
6.0-0-27-0 Greg Maybury
5.0-1-24-0 Kamau Leverock
18.-3-70-1 Jacobi Robinson
14.-1-28-6 Janeiro Tucker
12.-0-43-2 Derek Brangman
Somerset Cricket Club Innings
..33 Chris Douglas b Kyle Hodsoll
..26 Terryn Fray Not Out
..24 Stephen Outerbridge st Jason Anderson b Rodney Trott
..05 Greg Maybury Not Out
..12 Extras (3w-2lb-7nb)
100 Total for 2 Wicket after 29 overs
Fall of Wickets: 1-48 (Douglas), 2-92 (Outerbridge)
St. George's Cricket Club Bowlers
8.0-0-21-0 Stefan Kelly
8.0-2-24-0 Delyone Borden
4.0-0-16-1 Kyle Hodsoll
5.0-0-25-0 Justin Pitcher
4.0-0-11-1 Rodney Trott
Related Posts