The 2012 Bermuda Triathlon Association's Bank of Bermuda Foundation Triathlon was held this morning [Sept 30] in St. George's, with Jonathan Herring and Karen Smith racing their way to victory under rainy conditions.
Herring was clocked across the line in a time of 1:01:51, while Evan Naude finished second in 1:04:43 and Olympic skier Tucker Murphy finished third in a time of 1:05:44.
Karen Smith finished 6th overall with a time of 1:07:55, while Laurie Orchard was the 18th finisher and the 2nd female finisher in a time of 1:11:36 and Emma O'Connell rounded out the top three female finishers when she crossed the line in a time of 1:13:17 finishing 21st overall.
Men's winner Jonathan Herring: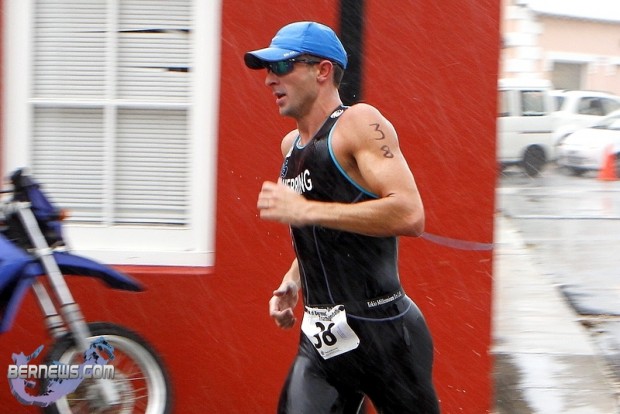 Women's winner Karen Smith: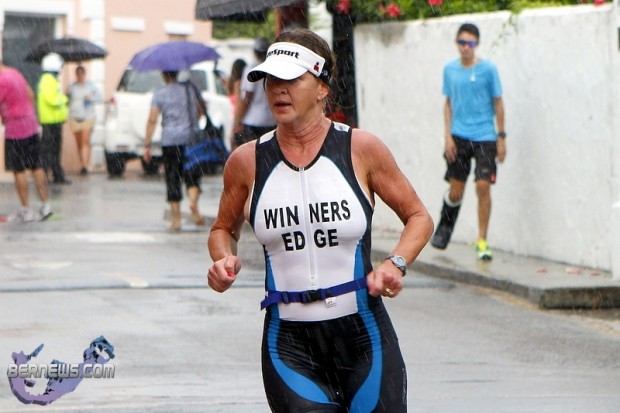 Adult Individual
1 Jonathan Herring 1:01:51
2 Evan Naude 1:04:43
3 Tucker Murphy 1:05:44
4 Kent Richardson 1:06:46
5 Mark Wilcox 1:07:01
6 Karen Smith 1:07:55
7 Andrew Davis 1:08:05
8 Geoff Smith 1:08:06
9 Tyler Smith 1:08:14
10 Nate Hartwig 1:08:14
11 Matt Thompson 1:09:11
12 Tim Goodyer 1:09:13
13 Adam Hopkin 1:10:29
14 Daniel Degiorgio 1:10:48
15 Dennis Fagundo 1:11:06
16 Thomas Godfrey 1:11:22
17 Travis Cooper 1:11:27
18 Laurie Orchard 1:11:36
19 Kevin Tucker 1:11:37
20 John Thompson 1:13:13
21 Emma O'Connell 1:13:17
22 Matthew Claridge 1:13:26
23 Jamie Pedro 1:13:33
24 Craig Rothwell 1:13:39
25 Belinda Castree 1:13:55
26 Ian Port 1:14:03
27 Chris Harkness 1:14:37
28 Mark Godfrey 1:15:05
29 Duncan Scott 1:16:59
30 Nicholas Glynn 1:17:53
31 Ian Henderson 1:17:59
32 Jay Riihiluoma 1:18:20
33 Steven Petty 1:18:37
34 Marc Fullerton 1:19:03
35 Alexey Ermolenko 1:19:04
36 Jonathan Betts 1:19:23
37 Michael Toyer 1:19:28
38 Lisa Blackburn 1:19:47
39 Christine Patton 1:20:29
40 Michael Harvey 1:20:55
41 Hilda Stoney 1:20:58
42 Gareth Tavares 1:21:27
43 Christopher Smith 1:21:29
44 Richard Hammond 1:22:26
45 Andrew Steel 1:22:29
46 James Keyes 1:22:42
47 Darren Ma 1:22:48
48 Sharon Hammond 1:22:55
49 Lesley-Jane Smith 1:22:58
50 Amber Mehta 1:23:02
51 Kamryn Minors 1:23:44
52 Johann Hunter 1:23:44
53 Heather Cooper 1:24:01
54 Mark Brown 1:24:38
55 Kimberly McIvor 1:25:42
56 Gordy Benson 1:25:56
57 Deanna Didyk 1:26:00
58 Jennifer Wilson 1:26:33
59 Raphael Simons 1:26:36
60 Charles Parker 1:28:09
61 Matthew Furr 1:28:12
62 Elliot Taniguchi 1:29:22
63 Wayne Dill 1:29:56
64 Rose-Anna Hoey 1:29:59
65 Carlo Pinardi 1:30:26
66 Alexandra Wilberz 1:32:13
67 Nancy Swart 1:32:23
68 Jennifer Fullerton 1:33:54
69 Carolyn Conway 1:34:15
70 Ian Fox 1:34:15
71 Edward Fisher 1:34:30
72 Dmitry Zenzin 1:34:31
73 Gemma O'Brien 1:35:35
74 Elinor Quarterly 1:39:51
75 Hilary Stoddart 1:42:17
76 Julian Wheddon 1:45:06
77 Randolph Smith 1:49:06
78 Charmaine Smith 1:57:26
Juniors 7 – 10
1 Nicholas Pilgrim 16:26
2 Alex Bordage 16:32
3 Jack Harvey 18:41
4 Nicholas Brando 19:03
5 Rudi Hammond 19:22
6 Alexander Southern 19:27
7 Jack Thorpe 19:49
8 Amber Simons 21:58
9 Charlie Thorpe 22:25
10 Tilda Norman 22:32
11 Finn Moseley 22:55
12 Liam Clease 23:05
13 Louis Hammond 23:27
14 Dillon Clease 23:27
15 Marcos Furr 23:41
16 Megan Hands 25:24:00
17 Chance Anthony 25:29:00
18 Nicholas Narraway 26:23:00
19 Adrian McPhee 29:09:00
Juniors 11 – 15
1 Alex Pilgrim 29:33:00
2 Alyssa Rowse 31:48:00
3 Matthew Oliveira 31:55:00
4 Timothy Vieira 32:43:00
5 Max De Ste Croix 33:03:00
6 Emma Harvey 33:08:00
7 Robin Horsfield 33:15:00
8 Lynsey Palmer 33:45:00
9 Jude Moseley 33:48:00
10 Victoria Davis 34:38:00
11 Yannick Hillier 34:40:00
12 Laura Hope 35:57:00
13 Jessica Godfrey 36:01:00
14 Rebecca Harrison 37:39:00
15 Brittan Moseley 38:27:00
16 Aaliyah Simons 38:46:00
17 Kerry Palmer 40:29:00
18 Cassandra McPhee 46:32:00
19 Angus Betts 50:35:00
Read More About