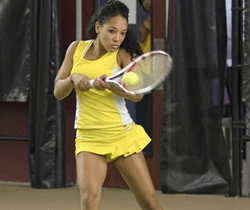 Bermuda's Cayla Cross and her North Carolina A&T Women's Tennis teammates continued taking part in the Elon Fall Invitational.
Cross played two singles matches on Day Two winning one and losing one, she also went down in her Doubles match for the second straight day.
In her opening match on Day Two Cross defeated Sara Ruiz from Western Carolina in a three setter. Ruiz won the first set 7-5, but Cross bounced back to win the second set 6-1, Cross then won the third set tie-breaker 10-5.
In her second match of the day Cross went down in straight sets 6-1, 6-0 to Stephanie Falcon from UNC Greensboro.
Cross then teamed up with Nianna Henry the pair went down 8-1 to Ruiz and Stacia Kissell from Western Carolina.
Read More About