[Updated] The Department of Parks' Lifeguard Service advised this afternoon [Sept 4] that due to dangerous surf conditions at Horseshoe Bay, the  beach has been closed to swimmers.
Tropical Storm Leslie is approximately 525 miles off the island, and the Bermuda Weather Service said it is expected to intensify to a category II hurricane as it approaches to about 60nm to our south by Saturday, with a Hurricane Watch or Warning likely to be issued.
Surfers at Horseshoe earlier today: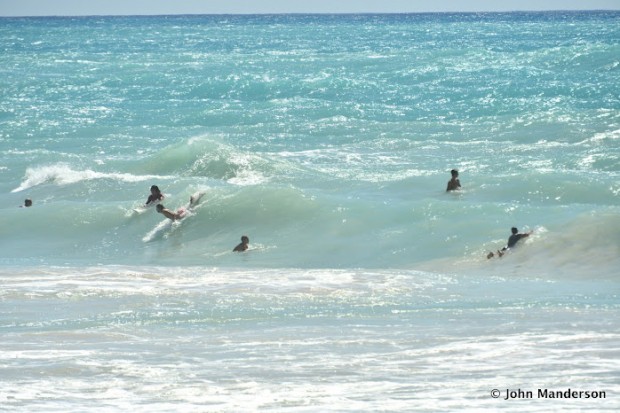 A statement from Government said: "The Department of Parks' Lifeguard Service has advised that the surf conditions at Horseshoe Bay are too dangerous to allow entry for swimming hence the Lifeguards there have closed down the beach to swimmers."
Following a final inspection of the beach at approximately 12pm today, the lifeguard services at Horseshoe Bay Beach was suspended after ensuring that DO NOT ENTER WATER signs were erected at the beach. Lifeguard coverage at Horseshoe will remain suspended for the rest of the week until conditions considerably improve.
"The red high surf warning signs remain erected along the South Shore from Church Bay, Southampton through to and including John Smith's Bay, Smiths.
A surfers at Horseshoe earlier today: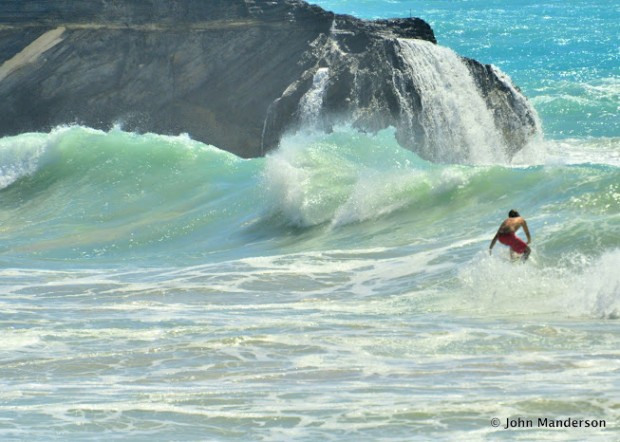 "Lifeguard coverage remains at Clearwater Beach and Turtle Beach. Lifeguards seasonal coverage to Cooper's Island Long Bay stopped as of yesterday evening.
"The public is asked to heed the warnings of the signs to avoid placing the lives of rescue personnel at risk during these dangerous surf conditions."
Update: A Government spokesperson said: "You will be aware that the Department of Parks has closed the South Shore beaches owing to the high surf and dangerous currents due to the approaching storm.
"It seems as though some visitors and locals continued to go to beach and surf and/or swim after the warning was issued. This is tremendously concerning. Can you emphasise the importance on your website that it's critical that these warnings are adhered to.
"We want to ensure that no serious incidents occur through the ignorance of not obeying the warnings."
Related Posts
Category: All, Environment, News