The City of Hamilton formally confirmed that City Hall Theatre will be renamed the Earl Cameron Theatre in honour of veteran Bermudian actor Earl Cameron, and said the renaming ceremony will take place on Monday November 5 at City Hall. Mr. Cameron arrives on the island this weekend with his wife Barbara to participate in the formal ceremony.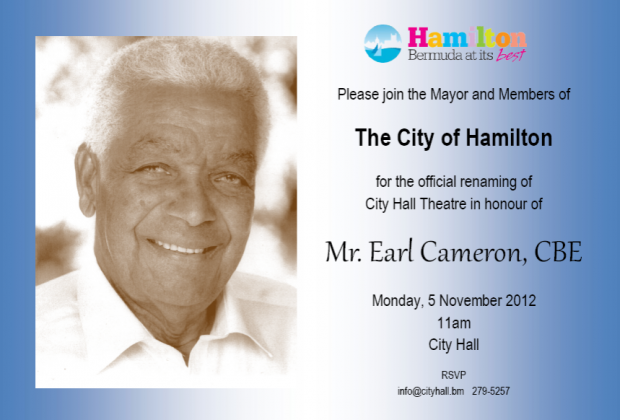 Mr Cameron is a legendary figure who broke down many racial barriers as a black actor in the British film scene during the 1940s, 50s and 60s. Born in Bermuda in 1917, his career has spanned several decades and over sixty films and television programs.
He moved to Britain prior to World War Two and after a career on London's West End stage made his film debut in the well-received thriller "Pool of London" in 1950 — becoming one of the first black actors to star in a British movie.
By the mid-1950s Mr. Cameron was an established star in the UK and he worked steadily in movies, the theatre and in television. He appeared in dozens of films and episodic TV shows and starred with Sean Connery in the 1965 'Thunderball' playing Pinder, the British secret service's Head of Station in the Bahamas. He also portrayed African dictator Edmond Zuwanie in the 2005 movie 'The Interpreter' alongside Nicole Kidman and Sean Penn.
In 2007 the Bermuda International Film Festival presented Mr Cameron with its Prospero Award for lifetime achievement in cinema, and in 2009 he was named as a Commander of the British Empire for services to the dramatic arts.
Now in his mid 90s, Mr Cameron continues to work as an actor.
Related Posts
Category: All, Entertainment, News