Lance Corporal Nigel Lee is the latest recipient of the Aide-de-Camp Education Award. This award is a scholarship fund established in 1999 by the ADCs who have served the Governor of Bermuda, and there are 21 ADCs to His Excellency the Governor who all contribute to this fund.
The fund provides financing to Bermuda Regiment soldiers looking to further their education either at Bermuda College or a tertiary educational institute overseas.
L to R: Lt Col Gonsalves, Capt Powell, LCpl Lee, Maj [Retd] Daniels: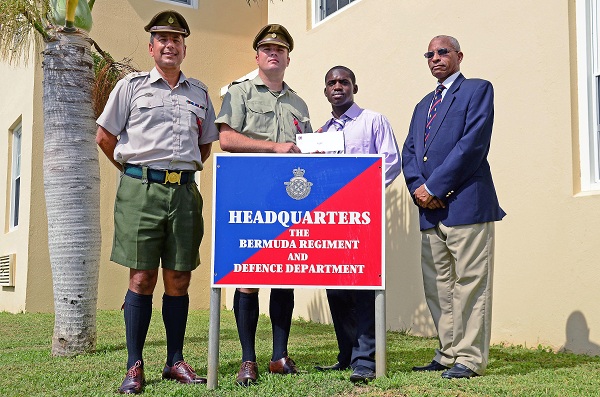 LCpl Lee is a member of the Bermuda Regiment's Operational Support Unit [OSU] and has made the decision to go back to school to obtain his GED. LCpl Lee was put forward for the ADC grant by Major Martin Wyer, Training Officer to the Bermuda Regiment and head of the Training Wing under which the OSU falls.
The Committee, in agreeing to assist LCpl Lee towards his goal in obtaining his GED, recognised him as a keen and committed individual. The committee consists of Lt Col Brian Gonsalves, CO of the Bermuda Regiment [and former ADC], Major [Retd] Alvin Daniels, First Bermudian ADC, Major [Retd] Wayne Smith former ADC 1999, and the current serving ADC Captain Clifford Powell.
When asked about LCpl Lee, Major Wyer responded, "Now just finishing his second year in the Regiment, he has indicated the fact that he would wish to re-engage to hopefully advance his career.
"He has an excellent attendance record and, in my opinion, has been proactive and responsible in seeking assistance towards furthering himself educationally. He will no doubt benefit personally from his studies; this in turn will improve his performance within the Regiment"
These words were echoed by his OSU Platoon Commander Lieutenant Mark Lavery who spoke highly of LCpl Lee's commitment and dedication to his service to the country.
The Commanding Officer of the Bermuda Regiment Lt. Col Brian Gonsalves who was ADC to the Governor in 1994 said: "I am delighted the ADCs agreed to support L/Cpl Lee's application as we know him to be a fine young commander.
"The Regiment promises to assist its soldiers whenever it can and this action is another way we can deliver. We wish L/Cpl Lee all the best in his academic pursuits."
Captain Clifford Powell who is the current Aide-de-Camp stated, "The ADC grant has fallen by the way side in the last few years, so it feels good to get it back up and running.
"The fund is a very worthy cause and it is a good opportunity for us to be able to give back to those soldiers that sacrifice so much of their time for the Regiment."
Major [Ret'd] Alvin Daniels who was the first Bermudian ADC in 1973 says: "LCpl Lee is a worthy Recipient of the ADC Grant for 2012.
"We are pleased to be able to provide financial assistance to this outstanding Bermuda Regiment soldier as he seeks to improve his education. We wish him well and look forward to his continued success with his studies, both within the Regiment and in the Community."
The conditions for the grant are:
The candidate must be a serving member of the Bermuda Regiment
The candidate must be a soldier in good standing order and of good moral character
The candidate must have a respectable service record in the Bermuda Regiment
The candidate must have a recommendation by a senior commander within the Bermuda Regiment
The grant is not a 'one-time' donation (i.e. Recipients may reapply)
The grant is to be made payable to the institution or other organisation as determined by the committee
The candidate must commit to one year of service for each scholarship awarded
The decision of the committee is final
The committee can elect to increase or withhold the grant in any given year
The grant shall be not less than $1,000.00 and not more than $2,000.00 in any given year
The candidate must maintain a minimum 2.50 GPA
Related Posts