HSBC Bermuda has been named title sponsor for the HSBC Bermuda 10K run and walk and the HSBC Bermuda Marathon & Half Marathon to be held 19 and 20 January 2013.
Blake Hellam, Head of HSBC Bermuda Retail Banking and Wealth Management said: "At HSBC we take great pride in sponsoring events that provide the community with a world class experience. Last year, Bermudian Cal Steede ran his 100th marathon amongst athletes from 14 countries during the 2012 Bermuda Marathon Weekend.
"It is quite fitting for HSBC to support an event with this level of local and international credibility. This reinforces our commitment to provide world-class service to the local communities in which we serve."
The marathon, half marathon and 10K events last year had over 1600 runners and walkers participate, and Race Director Anthony Raynor is looking to grow those numbers. "This weekend attracts significant support from our diverse local running community, and also brings in top international athletes and runners from all over the world.
"It's an event that puts Bermuda on the map in the running world, and gives participating visitors an opportunity to experience a bit of that Bermudian hospitality."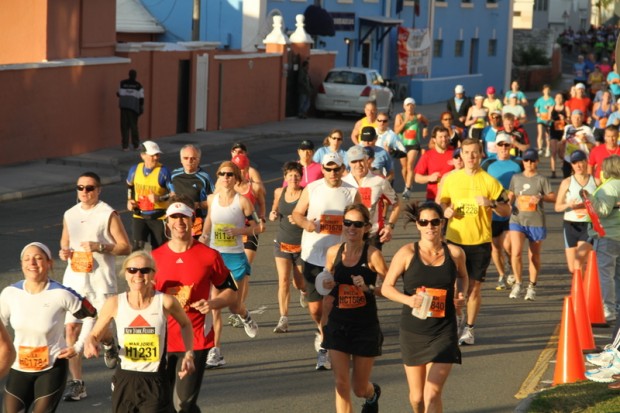 Registration for the 2013 Bermuda Marathon Weekend is now only available online at www.bermudaraceweekend.com and applications are open until 11:59 p.m. on 31 December 2012.
All event information can be found on the website including registration, course information, start times and race results. There will also be a health & fitness expo at the Fairmont Hamilton Princess PUBLIC during Bib Number Pick-Up on Friday 18 January between 3:30pm and 6:30pm and Saturday, 19 January between 11:00am and 5:00pm.
Donna Watson, President of the Bermuda National Athletics Association added, "The Bermuda National Athletics Association is excited to partner with HSBC Bermuda and would like to thank them for their support for the Bermuda Marathon Weekend.
"The partnership with HSBC Bermuda not only assists the Bermuda National Athletics Association with developing the Bermuda Marathon Weekend but also in its mandate to grow the sport of athletics in Bermuda. We look forward to a very successful 2013 event."
The Bermuda Marathon Weekend also includes the KMPG Bermuda Invitational Mile events, to be held on Friday 18 January, starting at 6.30pm on Front Street in Hamilton.
Read More About