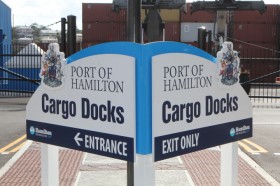 [Updated] The Government has filed an application for an injunction in the ongoing dock dispute, with the proceedings beginning at 5pm today [Dec 12].
Stevedoring Services Ltd [SSL] CEO Peter L. Aldrich previously said the decline of cargo imports due to the present economy has reduced revenues, and meeting their financial commitments has become progressively difficult.
As there is reduced work available for dock workers due to the lower imports, Mr Aldrich said they offered a guaranteed minimum workweek of either 22.5 hours or 15 hours, with standby pay for the balance of the 37.5 hours, which was around 50% [$16- $18 per hour] for standby time. He said negotiations were unsuccessful, and SSL was left with no alternative but to issue notice of temporary lay-offs.
BIU President Chris Furbert has said the workers believe that as their work is gone, its "worth a lot more to them" than the 50% SSL offered for that time. He also noted that while SSL is saying the unionised members will be home on layoffs and/or standby pay, three superintendents will be working, which he said means they will be effectively "supervising nobody."
This evening's statement from the Ministry of Economy, Trade and Industry is below:
The Ministry advised that the matter has been referred to arbitration.

However, Stevedoring Services Ltd has communicated its intent to proceed with layoffs, thus the Ministry has instructed the Attorney General's Chambers to file an application for an injunction against SSL in an effort to stave off their actions and the BIU to prevent any industrial action.

Once a matter has been heard by the courts, which began at 5.00 p.m., it is expected that both parties will withdraw any action until the arbitration process has concluded. The move comes as SSL issued notice that layoffs would take effect from today.

The public will recall that last Friday, the Minister of Economy, Trade and Industry, the Hon. Patrice Minors reminded the parties that the docks dispute had been referred to the Labour Disputes Tribunal, and she called on both parties to ensure that business operated as normal as possible until the matter has been satisfactorily resolved.

As such this latest development is the Ministry's attempt to ensure that the proper mediation processes are followed while the matter is in arbitration.
Update Dec 13, 12.38pm: SSL CEO Peter L. Aldrich said: "Despite not actually being served with any court papers in regards to a Government injunction preventing any further action from either party in the dock dispute, Stevedoring Services is, in good faith, complying with what it understands the order to be.
"In the meantime, we are preparing an appeal to have the injunction overturned. All of our actions have been legal and in compliance with the collective bargaining agreement, so we are confident of our position.
"We remain committed to efforts to find a mutually agreeable resolution to this issue. The simple economics of the situation dictate that we must find a solution to reduce the expense attributed to the 50 per cent non-productive employment costs if the business is to survive."
Read More About