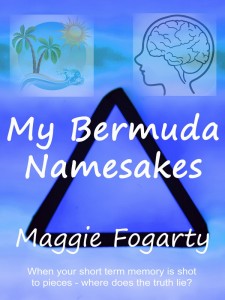 Imagine you have a brain injury leaving you with virtually no short term memory. Every day you need to keep a detailed diary just to remember what you did yesterday.
Imagine being accused of a crime that you didn't commit, when all the forensic evidence, including CCTV, says that you are guilty. Now add to this nightmarish mix, the fact you are thousands of miles away from your family and friends.
These are just some of the intriguing ingredients in the debut novel 'My Bermuda Namesakes' by UK Royal Television Society award winning television producer and journalist, Maggie Fogarty.
And most of the novel was written in Bermuda where Ms Fogarty lived from for 12 months until April this year.
"The bulk of the book was written in a cottage in South Road Paget where I was staying with my partner Paul. He was working as a digital forensics expert for the Bermuda Police Service while I used some of my stay on the island to fulfil my ambition of writing a novel," Ms Fogarty said.
She said it was a chance research visit to the UK brain injury rehabilitation centre, West Heath House, which first triggered the idea.
"There I learned about people who had suffered severe brain injuries, often through road accidents, leaving some of them with little or no short term memory," Ms Fogarty said.
"A daily diary was their memory lifeline and without it they could not recall what they did the day before. Originally I visited the centre with a view to making a TV programme but then the idea of a written story took hold."
'My Bermuda Namesakes' is based on a story which was shortlisted in a Writers and Artists/WAYB short story competition in April 2011.
Ms Fogarty said: "I had just arrived in Bermuda when I heard that the story had made the competition short list. It occurred to me that it could be developed it into a novel and as I was going to be spending some time in Bermuda, it seemed apt to set the whole thing on the island."
In the novel, London based graphic designer Josie James – known as 'JJ' - heads to Bermuda for some specialist brain rehabilitation treatment after a road accident leaves her with serious short term memory problems. Once there, she decides to see if she can trace any 'namesakes' – people who share her name – as a way of making friends.
It's not long before she meets two women on the island who are also called Josie James. One is an ex pat former beauty queen from Ireland and the other is a local artist who has returned to Bermuda after spending years living in New York.
The only way JJ can remember what she does from day to day is to keep a detailed diary. This leaves her vulnerable to anyone who wants to take advantage and it isn't long before she finds herself at the centre of a nightmare. She is arrested and accused of committing a serious crime.
The novel follows her fight to clear her name when all the forensics – CCTV, finger prints and eye witness accounts – point to her guilt.
Ms Fogarty said: "My partner worked for 10 years as a senior digital forensics expert for a large UK police service before being offered a consultancy post in Bermuda. So I was able to get some advice on this side of things!"
While the book refers to the beauty of the island, it also gives a nod to the murkier side of things – especially the criminal gang elements.
"I wanted to give an authentic picture, the beauty but the underbelly as well," said Ms Fogarty. "However, there's a surprising twist to this story. Without giving too much away, things are not what they seem to start with."
By a strange coincidence, Ms Fogarty was put in touch with her main brain injury rehabilitation adviser, Samantha Johnson, after meeting her grandmother who was born in Bermuda but now lives in Canada.
Ms Fogarty said: "I met this lovely lady at a lunch at Coco Reef hotel. When I told her about my plans for the book, she mentioned that her grand daughter in Canada happened to be working in the field of brain injury rehabilitation. I then contacted Samantha and she agreed to be my main adviser on the book. It was as if it was meant to be." 3
Ms Fogarty also hopes that her book could stimulate more interest in Bermuda as a tourist destination, especially amongst UK readers. She said: "That would be great because people need to rediscover Bermuda.
"Since I've returned to the UK, I've been telling people that they should visit the island. My partner, Paul, has been a one man advertising hoarding with his wide selection of Bermuda T Shirts!"
You can order 'My Bermuda Namesakes' either as an e-book or paperback here on Amazon.
Read More About
Category: All, Entertainment