[Updated - Duerr now in custody] The search for Christopher Duerr continues, with the police again seen in massive numbers in the West End late this morning [Jan 29]. A number of armed police officers are focusing on the area of Lagoon Bay Park in Sandys.
Duerr has been the subject of a massive manhunt in the West End, which involved dozens of officers from the Armed, Canine and Marine Units. The situation began at approximately 11am yesterday after the police tried to execute a search at a Seawall Drive, Boaz Island residence.
"As police arrived a man bolted from the residence clutching what is believed to be a firearm. A search to locate the man was commenced," a police statement issued on Monday evening said.  The police also said that three other persons were arrested at the residence, and quantity of drugs and ammunition was seized from the house.
Duerr has remained at large since that time, and police continue their search for the suspect, who they said is believed to be armed.
Details surrounding today's search are limited, however we will update as able.
Update 1.04pm: Police Media Manager Dwayne Caines said that based on information received, the police continued the search specifically in the Lagoon Park area, which he noted was "heavily wooded". There are 20-30 officers present on the scene, and Mr Caines stressed that if anyone sees Duerr they should contact the police.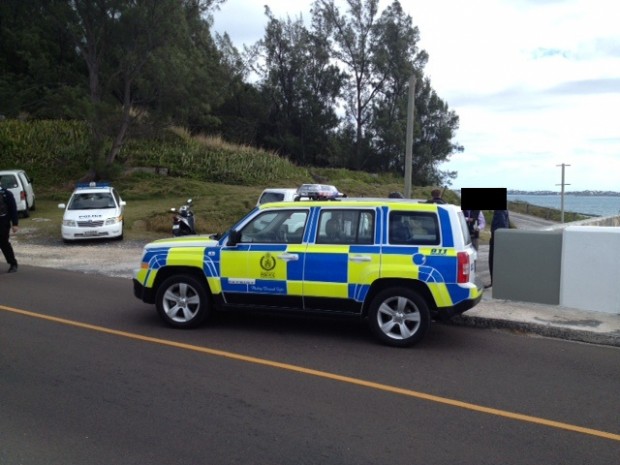 Update 1.24pm: Audio statement from Mr Caines [listen here], who said the police responded to reports of "sightings of the missing fugitive" in the area, and officers are searching the one mile radius.
He said vehicles coming in and out of Lagoon Park are being checked to make sure "the fugitive is not making his escape in the vehicle."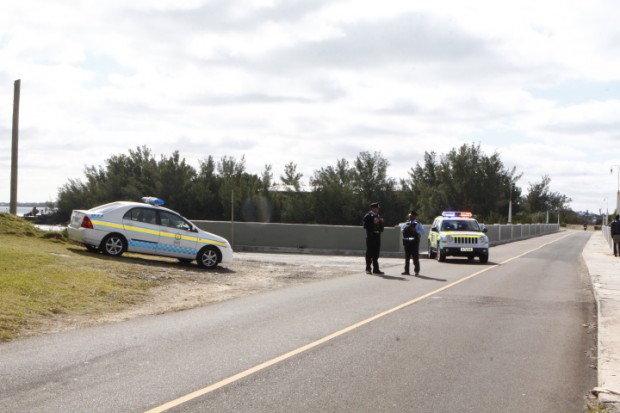 Update 3.19pm: The police presence in the area appears to have decreased
Update 9.31pm: Duerr surrendered at the Somerset Police Station this evening, the police have confirmed.
Read More About