[Updated: The three vehicle collision saw three people injured, with a 31-year-old Sandys parish man presently in the Intensive Care Unit in critical condition]
As of 5.15pm this afternoon [Jan 26], traffic is being diverted on Harbour Road following an accident in the area between Manse Road and Cobb Hill.
It appears at least one person was injured, and possibly two, as two ambulances were seen leaving the scene. The road remains blocked at this time, and we will update with additional information if able.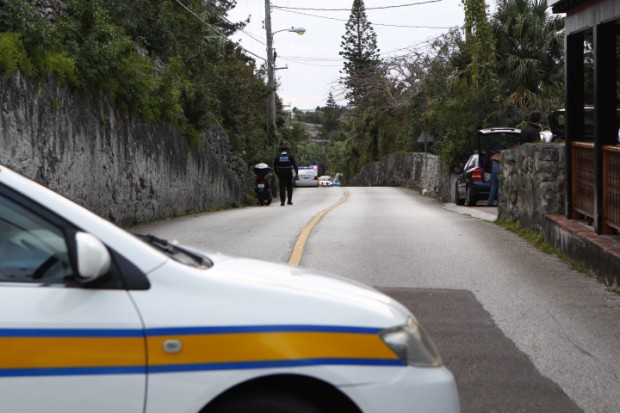 Update 7.40pm: The collision involved two motorbikes and a car, and the road has re-opened.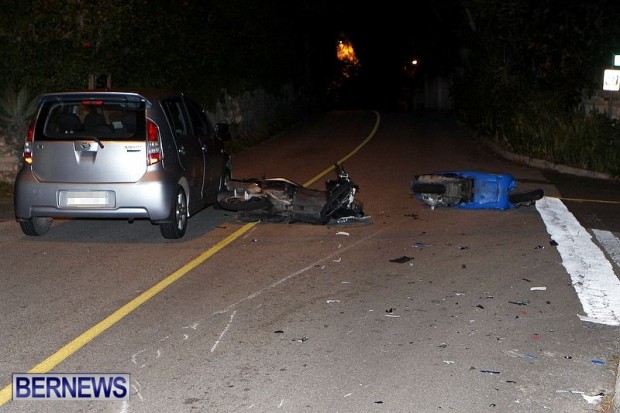 Update Jan 27, 12.27pm: The police confirmed that a 31-year-old Sandys parish man was seriously injured in this collision, and is listed in critical condition in the Intensive Care Unit. The full police statement follows below.
Around 5:10pm on Saturday, January 26th police and first responders attended a reported serious three vehicle collision at the junction of Harbour Road and Salt Kettle Road in Paget.

It appears that a car and a motorcycle were traveling along Harbour Road and another motorcycle was exiting Salt Kettle Road when all three vehicles collided.

The rider of one of the motorcycles involved, a 31 year old Sandys parish man, was seriously injured and taken to King Edward VII Memorial Hospital via ambulance for treatment.

At last check he was in the Intensive Care Unit in critical condition.

The rider and pillion passenger of the other motorcycle involved, a 24 year old Warwick man and a 23 year old Warwick man respectively, sustained less serious injuries. There were no additional injuries reported.

Traffic was diverted away from the area while collision investigators examined the scene. Inquiries into this collision are ongoing.
Update Feb 1st: The police have now confirmed the death of 31-year-old Jason 'Jroc' Darrell, who succumbed to injuries received in this motorcycle collision.
Read More About
Category: Accidents and fires, All, News