On Wednesday evening [Feb 13] there will be a Public Forum on Term Limits at St. Paul's Centennial Hall starting from 5.30pm. The panelists will be Minister of Home Affairs Michael Fahy, Shadow Minister of Home Affairs Walter Roban, BIU President Chris Furbert, President of the Bermuda Employers Council Keith Jensen, President of the Chamber of Commerce Ronnie Viera and businessman Michael Ross.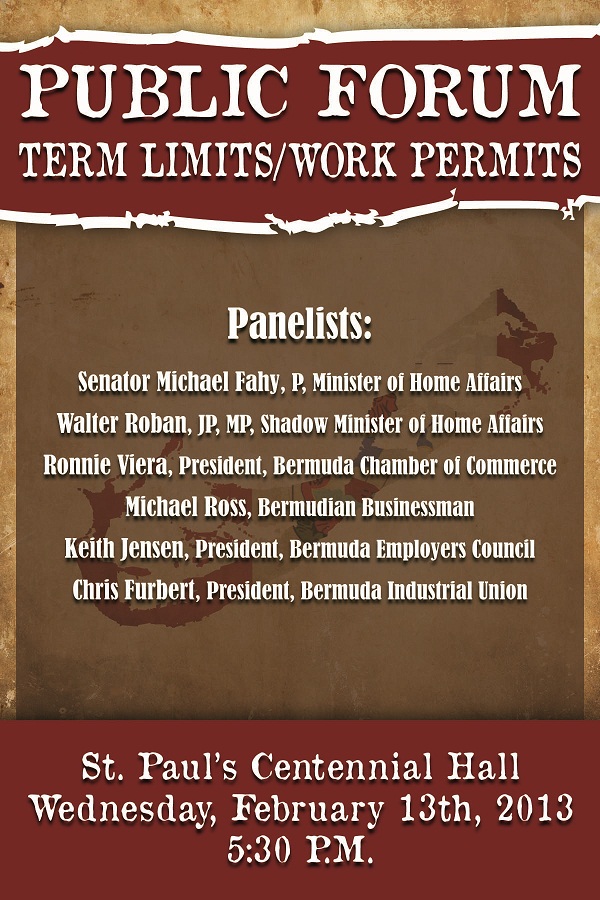 Last month Home Affairs Minister Michael Fahy said Government will eliminate the Term Limit Policy, which caused the Opposition PLP to express their disagreement with the way it was handled.
The Chamber of Commerce and Bermuda Employers' Council welcomed the move, while the Cayman Islands Deputy Premier noted the move, saying they "would not want any of our competition getting ahead of us."
BIU President Chris Furbert is on record as stating that "term limits must stay to protect Bermudian workers until the work permit policies in Bermuda are improved upon at the Department of Immigration."
The Impact Assessment on the Elimination of Term Limits document — which was leaked to the press — said they expected a "rebounding economy in conjunction with no term limits will help shift public opinion" about the policy change.
The full Impact Assessment is below [PDF here]:
Read More About
Category: All