Former celebrity residents Michael Douglas and Catherine Zeta-Jones are spending US Thanksgiving in Bermuda this week —  the first time the superstar couple will have been back on the island together since the actor/producer received the all-clear from throat cancer.
Entertainment website Extra caught up with two-time Oscar winner Mr. Douglas and his actress wife in New York this week.
Mr. Douglas, who this time last year was finishing his treatment for cancer, said he is thankful for his health — and is bringing the family here to celebrate the American holiday tomorrow [Nov. 24].
"We're going back to Bermuda," said Mr. Douglas.
The couple lived in Bermuda for almost a decade, raising their two young children away from the scrutiny of the paparazzi. They relocated to New York two years ago but still own a house in Warwick.
Extra Talks To Michael Douglas And Catherine Zeta-Jones
Mr. Douglas is currently filming a biography of entertainer Liberace biopic, playing the flamboyant pianist with Matt Damon as his chauffeur/lover.
Ms Zeta-Jones just wrapped her film musical "Rock of Ages" with Tom Cruise.
The couple were attending Children of Chernobyl gala honouring Douglas' father, Kirk, for his work with charities which evacuated children from the radioactively contaminated region of Russia region and provides them with critical medical care, new homes, and excellent education in Israel.
The elder Mr. Douglas was married to Michael's mother, Bermudian actress Diana Dill.
Recently Michael Douglas penned the foreword to a new photographic book entitled "Bermuda" being sold to raise funds for various island charities.
"I remember summers in Bermuda as a child and the feeling of peacefulness that the natural environment of the island provides — the island air and the beautiful light; the pink beaches; the crystal clear blue-green water; the tropical flora," says Mr. Douglas in his introductory remarks.  "There is also a special feeling of connectedness that comes with being on the island that was my mother's childhood home and our family's home for the past 400 years.
"All of this led Catherine and I back to Bermuda in 2001 to create a home for our children.
"We had some wonderful times in Bermuda with our children. We enjoyed the respect and privacy that Bermudians afforded us. It is one of those rare places where people tend to give you the space and respect that you deserve as a human being regardless of whether they recognise you for your fame. That civility and politeness does great things for a community."
Mr. Douglas & Mother Diana Shooting "It Runs In The Family", The 2003 Film They Made With Kirk Douglas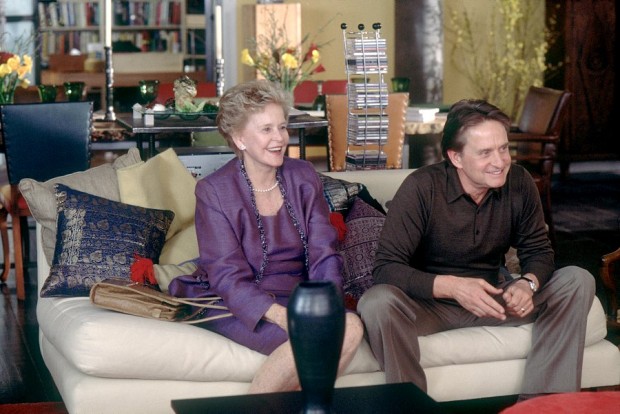 Read More About
Category: All, Entertainment, Films/Movies, News