[Updated with video] Crowds of people descended on the House of Assembly this afternoon [Mar 1] to participate in a demonstration organized by a group calling themselves "Concerned Bermudians."
The group was calling for Term Limits to be reinstated, a three month extension of of the Work Permit Policy Review, a public apology from the Minister of Home Affairs Michael Fahy for his "deception and condescending attitude," and that OBA officials "cease and desist calling Bermudians xenophobic."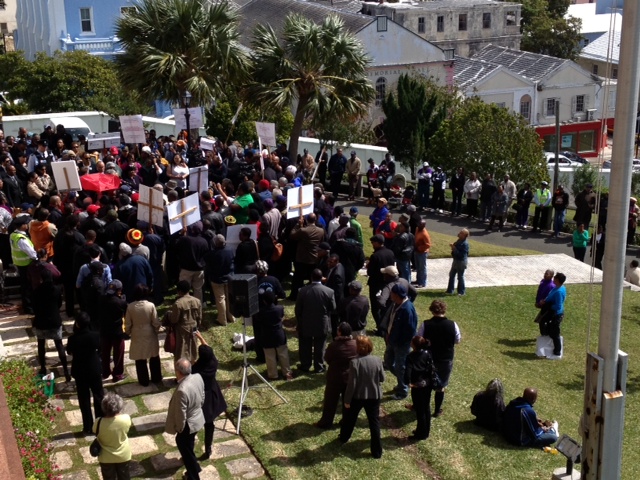 People started arriving before 12 noon, and by time the event was underway there was a full crowd on the grounds of the House of Assembly. The police were present, and those assembled ranged from seniors, down to a group of children who apparently came to watch the protest, not take part in it per se. Many of the protesters were carrying various signs saying things such as "OBA Lies", "Fahy Must Go", "Reinstate Term Limits," and more.
Premier Craig Cannonier then came out and addressed the crowd, and did not most receive what one would call a warm reception. The Premier sought to assure the crowd that the Government was working in the best interest of everybody.
During his speech a police officer intervened to ask one of the demonstrators to stay calm [pictured above]. That protester in particular told the Premier he "needs to send the guest workers home so Bermudians can get a job."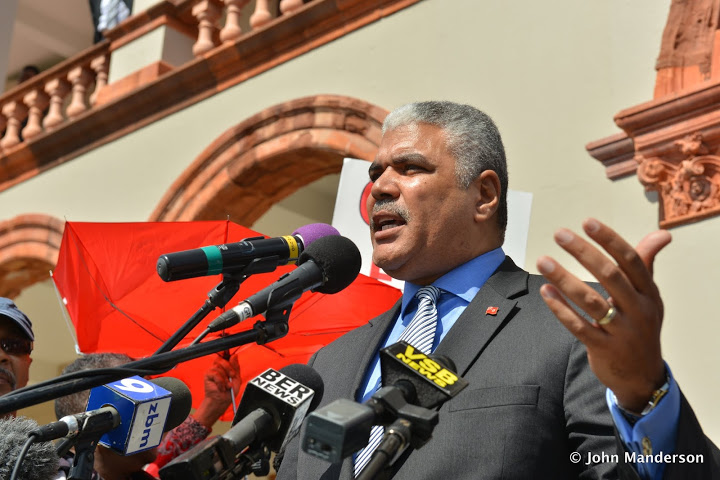 Home Affairs Minister Michael Fahy also attempted to address those gathered, however the repeated cheers from those gathered calling for him to apologize made his speech somewhat difficult to hear. Various PLP MPs also came out during the demonstration, and received cheers from the crowd.
After the Premier and Minister spoke, the organizers thanked everyone for coming out to exercise their democratic right. At this point most the crowd started to disperse, while some stayed around for a few minutes and chatted with others. You can view our live blog of the event here, and all our coverage of today's demonstration here.
Click to enlarge photos:
Read More About