North Rock CEO Vicki Coelho and KeyTech CEO Lloyd Fray held a press conference this morning [Apr 29] to expand on the amalgamation of the two internet providers, which has now taken place.
Last week Logic and North Rock announced they agreed to amalgamate, and said the new entity will be a wholly owned subsidiary of KeyTech. KeyTech is the parent company of the Bermuda Telephone Company, Logic Communications, WestTel and Bermuda Yellow Pages. Quo Vadis, CellOne and Bermuda Cablevision are KeyTech affiliates.
North Rock CEO Vicki Coelho and KeyTech CEO Lloyd Fray: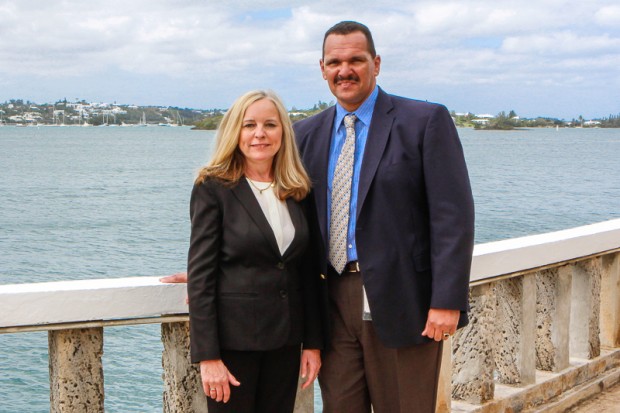 There will be no service disruptions to any customers and the combined entity will honor existing agreements, service plans, and pricing. Vicki Coelho, CEO of North Rock Communications, will assume the role of CEO of the amalgamated Logic Communications Ltd.
Ms Coelho said, "We really see the value in bringing them together because obviously there is a lot of duplication in what we do. We believe that to effectively compete as a Bermudian company against the many other other ISPs that are internationally owned, that it would be beneficial to the market."
"There are obviously economies of scale, and by having a larger entity we believe that it will be much better success."
When asked about staff employment, Ms Coelho said, "Today staff has remained constant, we will be reviewing where there may be opportunities for better synergistic relationships, but at this point there are no redundancies."
Mr Fray said, "From the carriers standpoint there is a cost to doing business. And to meet the demand and to continue with the quality of service we have to invest and reinvest.
"So that is where the synergies that we talk about, where you see companies coming together is to improve on their investments to enhance those services for customers."
Read More About
Category: All, Business, News, technology, Videos