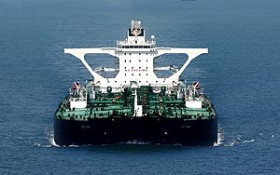 Tanker company DHT Holdings, Inc. — which maintains its corporate headquarters in Bermuda — announced its first quarter 2013 financial results last week.
Earnings before interest, taxes and amortisation for the quarter of $4.2 million and net loss for the quarter of $3.1 million [$0.20 per share] after adjusting for loss on sale of vessel of $0.6 million. As of March 31, 2013 the cash balance was $75.5 equal to $4.90 per share.
The company will pay a dividend of $0.02 per common share and $0.25 per preferred share for the quarter payable on May 23, 2013 for shareholders of record as of May 14, 2013. When determining the dividend our Board has taken into account general business conditions and the continued weak tanker market.
In April the company amended its credit agreement with the Royal Bank of Scotland whereby the minimum value covenant has been removed in its entirety.
Furthermore, the installments scheduled to commence in 2016 have been changed from a fixed $9.1 million per quarter to a variable amount equal to free cash flow in the prior quarter – capped at $7.5 million per quarter. The next scheduled instalment would at the earliest take place in Q2 2016.
In April the Company has made a prepayment of $25 million and has agreed to increase the margin to 1.75 percent. The $25 million has been recorded as current portion of long term debt as of March 31, 2013. DHT Maritime's financial obligations under the credit agreement will be guaranteed by DHT Holdings.
During the quarter, the company filed a claim amounting to $51.8 million against the OSG estate in the US Bankruptcy Court. On February 28, 2013 we sold the claim to Citigroup for a purchase price equal to 33.2 percent of the amount of the claim ultimately allowed by the Bankruptcy Court.
The company received an initial payment of approximately $6.9 million and will receive a final payment plus interest from Citigroup when the claim is allowed by the Bankruptcy Court. Pending the claim being allowed by the US Bankruptcy Court, the company has not yet reflected the sale of the claim in its income statement.
Read More About