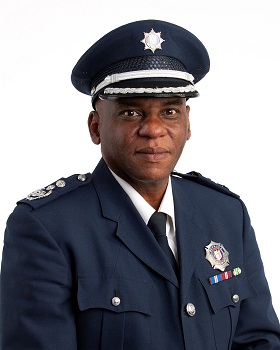 The Ministry of Public Safety announced that the Governor has approved the recommendation of the Public Service Commission to appoint Divisional Officer Lloyd Burchall as Chief Fire Officer.
Mr. Burchall succeeds Mr. Vincent Hollinsid who retired from the Bermuda Fire & Rescue Service yesterday [Apr 30]
Mr. Burchall joined the Bermuda Fire & Rescue Service in February 1982, and has served as Firefighter, Leading Fireman, a Sergeant in the Operations and Training Divisions; a Lieutenant/Lead Recruit Instructor and most recently as Divisional Officer [Operations].
Mr. Burchall holds an Associate's Degree in Fire Science and is a candidate for the BSc in Fire Science [2013]. He has successfully completed the International Divisional Command Course [2007] and the International Brigade Command Course (2010) at the UK's Fire Service College.
Other courses successfully completed include:
Emergency Services Strategic Management (UK) (2006/07)
Fire Investigation Course (UK) (2002)
Fire Prevention & Management (Canada) (1994)
Emergency Medical Technician course (Bermuda) (1999)
Deputy Premier and Minister of Public Safety Michael Dunkley said, "I congratulate Mr. Burchall on his appointment and I look forward to working with him as a part of the Ministry's senior team. I know him to be a well qualified and professional member of the Bermuda Fire & Rescue Service and I wish him all the best in this new challenge of leadership.
"Let me also express my thanks to retiring Chief Fire Officer Mr. Vincent Hollinsid. His four decades with the Service have been marked by the development of high standards of training, strength at all ranks of the Service and a department that is run efficiently and in which the people of Bermuda have high confidence. I wish him well in his retirement."
Mr. Burchall is a graduate of Prospect Primary, Warwick Secondary School, the Bermuda College and Columbia Southern University. His appointment is effective today [May 1].
Read More About