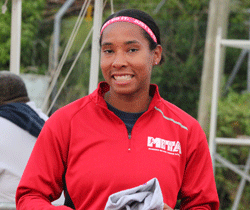 [Updated] Bermuda's Shianne Smith has finished 2nd in the Women's Heptathlon at the Regional Combination of Event Championships in Cannes, France with a total of 5,240 points.
Smith won the 200m race clocking a time of 24.8, she then clocked 2:19:18 winning the 800m.
Smith then finished 2nd in the 100m Hurdles with a time of 14.48, she then finished 3rd in the Long Jump with a top leap of 5.44m, Smith finished 6th in the High Jump leaping 1.54m.
A toss of 11.71m earned Smith a 3rd place finish in the Shot Put and a throw of 37.49m saw Smith finish 2nd in the Javelin.
Smith said, "I feel good with the start of the season setting 3 new Personal Best [PB] records."
"The three PB's came in the Hurdles, Shot Put and Javelin, so the work I am putting in is already starting to pay off," concluded Smith.
Update 6.53pm: Shadow Minister Michael Weeks today extended congratulations to Bermudian athlete Shianne Smith, saying "On behalf of the Bermuda Progressive Labour Party, I would like to extend congratulations to Ms. Shianne Smith. Her accomplishment on the world stage represents a tremendous achievement and we wish her
much success in future competitions."
Read More About