The 2013 NatWest Island Games triathlon event took place this morning [July 14] at Clearwater in St. David's, with Bermuda claiming two of the 12 medals.
The event consisted of male and female individual and team divisions, with competitors doing a 1,500m swim, 40k bike and 10k run.
Bermuda's Laurie Orchard claimed a bronze in the women's triathlon, while Kerry MacPhee of the Western Isles took gold and Lynsey Henderson of the Shetland Islands won the silver. All three medalists are pictured below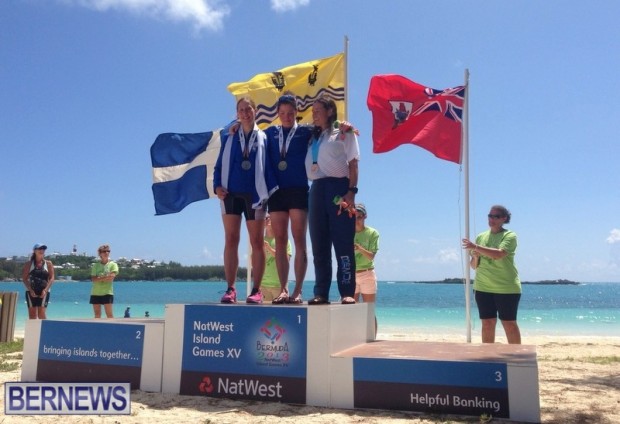 Bermuda's female triathletes — Laura Norman, Martina Olcheski-Bell and Laurie Orchard — also won the silver in the team division.
The men's triathlon saw Bobby Oag of Orkney win the Gold, Gudmundur Joensen of the Faroe Islands take silver and Peter Fenwick of the Shetland Islands win the bronze. All three medalists are pictured below.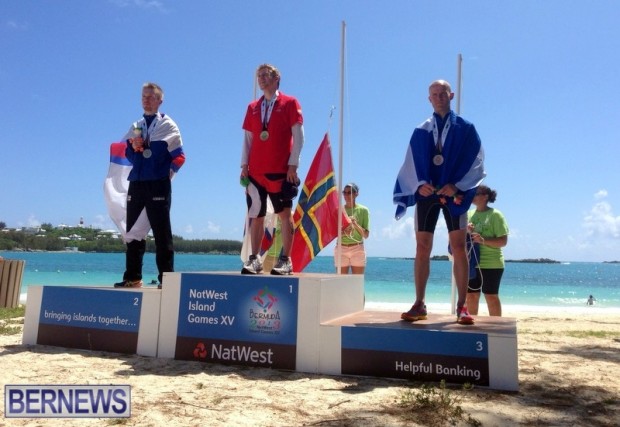 Tucker Murphy — who represented Bermuda in the Winter Olympics — was the top Bermudian male triathlete in 6th place. Bermuda's Jonathan Herring was 17th, Kent Richardson was 23rd, Adam Hopkin was 27th, Geoff Smith was 33rd, and Timothy Goodyer was 37th.
The slideshow below contains 60+ photos of the triathlon:

Read More About