The Bermuda Philatelic Bureau of the Bermuda Post Office today [July 18] announced the release of a series of four stamps: Bermuda's Folklife Part 1 – Arts of Celebration: Gombeys.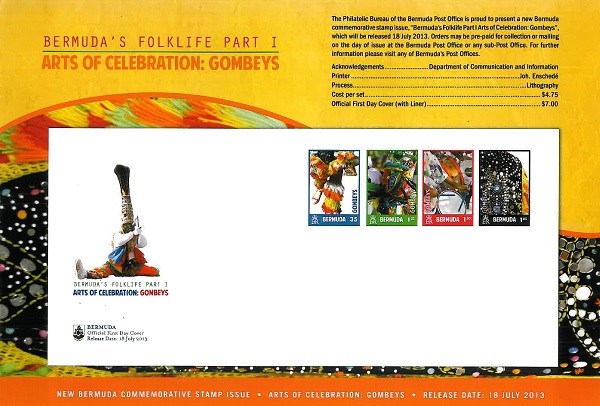 Folklife is the living traditions currently practiced and passed along by word of mouth, imitation, or observation over time and space within groups, such as family, ethnic, social class, regional, and others.
This is the first in a series of stamp issues that will highlight the various genres of Bermuda's folklife.
The Bermuda Gombey is perhaps the island's most recognizable and vibrant cultural tradition. Masked dancers parade through the streets of Bermuda on holidays especially on Bermuda Day, Christmas and New Year's Day. The troupes of Gombeys are accompanied by a band of musicians usually playing a bass drum, a military-style fife, two snare drums, a triangle, and a bottle.
The word "Gombey" means "rustic drum" in the Bantu language, and the tradition is a unique blend of African, West Indian [specifically St. Kitts], Amerindian, and British influences.
Gombeys have existed in Bermuda since the 1800s and the practice was developed by the island's bondspeople of African and Amerindian descent. Most Gombey troupes are formed from a close-knit group of men and boys who are usually relatives.
Each of these stamps captures an image representing an aspect of Bermuda's iconic Gombey dancers.
The 35¢ stamp shows the colourful fringed costume and traditional high-top white sneakers of the Gombey in the midst of an intricate dance.
The $1.25 stamp is an image of a Gombey mask and headdress.
The $1.50 stamp features a snare and a bass drum.
The $1.65 stamp is a detail of a cape.
This release represents the third stamp issue for the year. This collection continues the Bermuda Post Office's efforts to portray all facets of Bermuda's heritage, culture and history.
The stamps are available in values of 0.35c, $1.25, $1.50 and $1.65. Official First Day covers with liner $7.00.
Orders may be pre-paid for collection or mailing on the day of issue at the General Post Office or any sub-Post Office.
The next stamp issue will be the Bermuda Mystery Roses and the proposed date for release is October 17, 2013.
Read More About
Category: All