With the Miss World competition getting set to wrap up on September 28th, Katherine Arnfield — Bermuda's pageant representative — is quickly moving up the contest's ranks thanks to votes from her supporters at home and abroad.
Currently ranked in 16th place out of 130 contestants, Miss Arnfield is poised to compete strongly for the title of People's Champion, a title that would automatically earn her a place in the top six Miss World finalists.
"I want to emphasize that the public can really change the outcome of this competition by consistently voting for Katherine," said Miss Bermuda Pageant Organiser Milika Trott-Seymour.
"She is already beating out a lot of larger countries than ours, which is amazing, but needs each and every one of us to continue to support her in this endeavor."
Ms Trott-Seymour said Ms Arnfield is currently #16 out of 130 contestants, and noted that the winner of the People's Champion will automatically advance to the top 6 at the Miss World Pageant.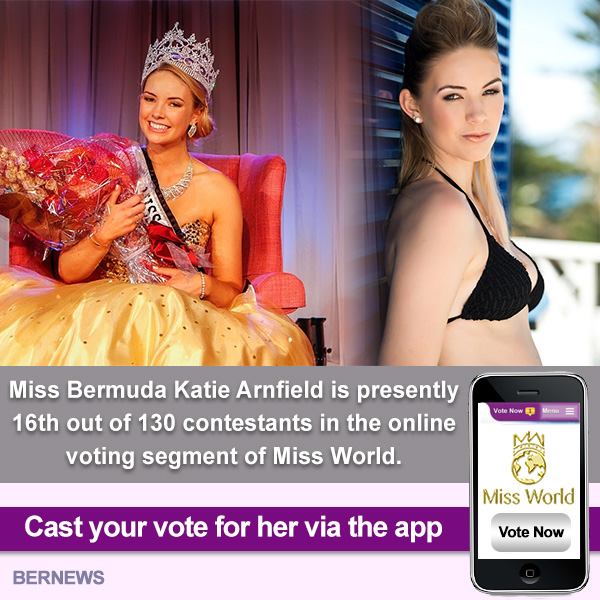 If you're looking to support this young lady in her quest to represent our island home around the world for the next year, you can help out by casting your own vote for her.
To this end, the Miss World App has been released by the competition's organizers, giving you the opportunity to not only cast your vote in support of Miss Arnfield, but to keep up on all of the latest happenings in the competition, as well.
Available for the iPhone, iPad, and all Android devices, you can purchase and download the app to your mobile device for only 99 cents, earning yourself two free votes towards the People's Champion Award in the process.
Read More About
Category: All, Entertainment, News, Style & Beauty