[Updated: There was an explosion at an Ariel Sands, Devonshire residence, which caused very significant damage to the property, and also shattered windows of surrounding residences. No one was injured, but a 46 year old woman was treated for shock.]
At sometime around 6pm this evening [Oct 16] there was was an incident in the Ariel Sands area of Devonshire, with residents telling Bernews they heard what sounded like some form of an explosion.
It is unclear exactly has transpired, however there is debris in the road [pictured below] and unofficial reports indicate it may have been some form of gas tank explosion.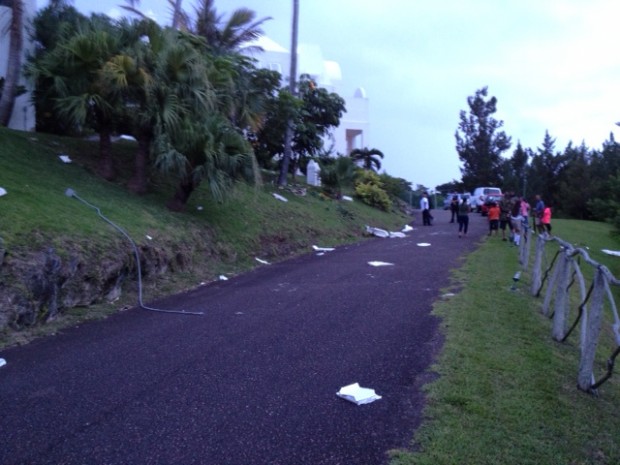 Details are extremely sketchy, however there are indications that one person may have sustained some form of minor injury, which is said to be non life threatening, maybe a case of shock or similar. That information is not confirmed by any official sources, however the police are on scene, and we will update as able.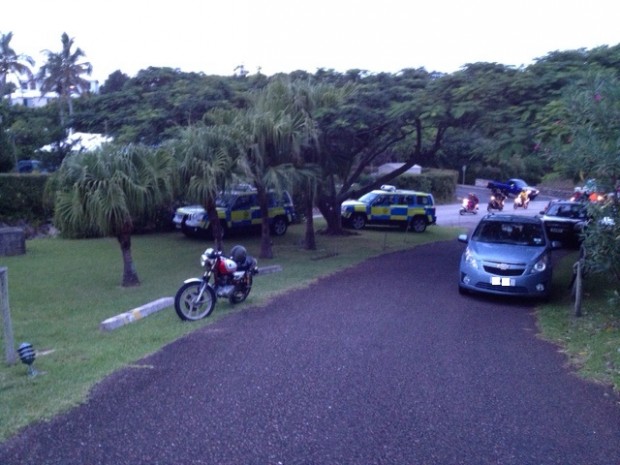 Update 7.04pm: The police are monitoring access, however we are getting closer to the actual point of the explosion, and there is a heavy amount of debris including what appears to be blinds and sections of a roof.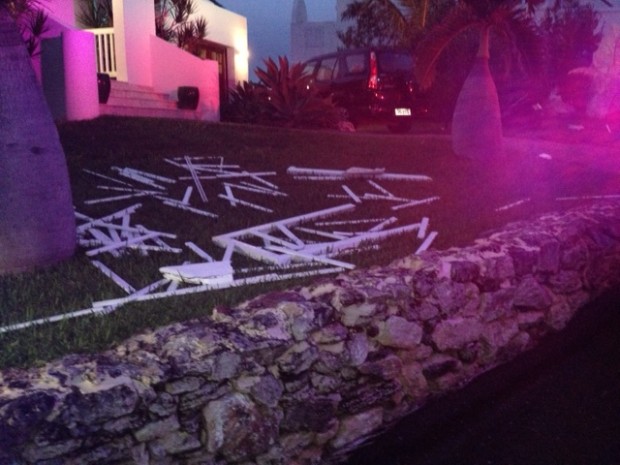 Update 7.14pm: We can now see the property, and the damage is very evident. Windows have been blown out, walls are damaged/missing, and the roof is also extremely damaged. Photos to come shortly….
Update 7.17pm: The police said there was an explosion at an Ariel Sands, Devonshire residence. There were no reported injuries. The full police statement is below.
Around 6:25pm on Wednesday, October 16th police officers as well as Bermuda Fire & Rescue Service personnel attended a reported explosion at an Ariel Sands, Devonshire residence.

There were no reported injuries; however apparently there was significant damage to the residence involved. In addition, surrounding residences had windows shattered as a result.

Inquiries into the cause of this explosion are ongoing.
Update 7.29pm: Photos of the property added below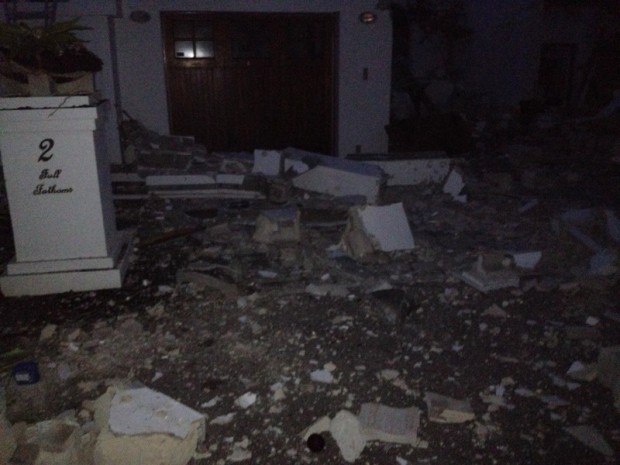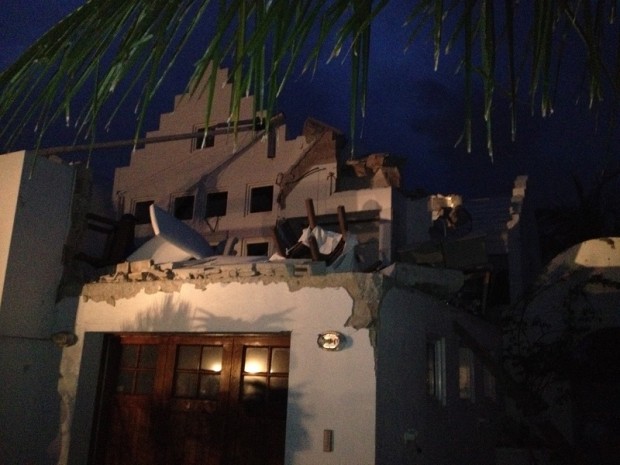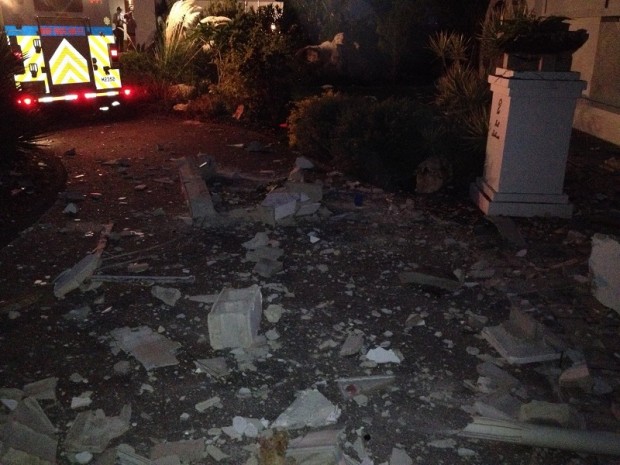 Update 8.18pm: When questioned about the statement that no one was injured as unofficial reports indicated that at least one person was taken away for medical treatment, the police confirmed that at least one person was taken for medical care, and the person[s] is believed to be suffering from shock, and was not actually injured. When asked if it was a gas tank that exploded, the police declined to answer saying the investigation is still in the early stages.
Update 8.21pm: Some people can be seen leaving the area with small suitcases, with it appearing they are residents leaving to stay elsewhere for the evening. An additional photo of the damaged property is below, with a full gallery to come later tonight.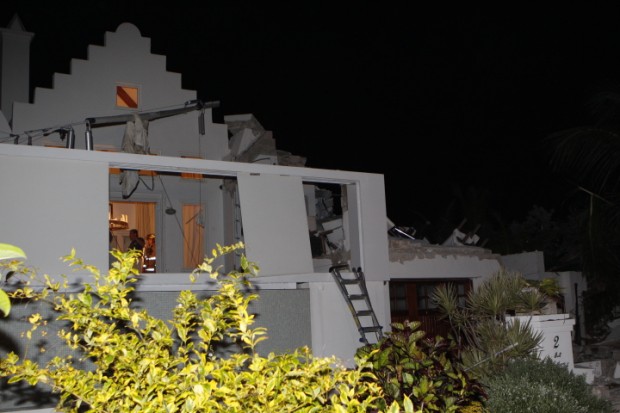 Update 8.24pm: A Fire Service spokesperson confirmed one person was admitted to the hospital. He said the cause of the explosion is under investigation. Michael Freisenbruch from Freisenbruch Meyer Insurance was also spotted on the scene.
Update 8.31pm: Some of the property appears to have been blown quite a distance. Our general layman estimate is that some sections appear to have been blown around 100ft away from the property.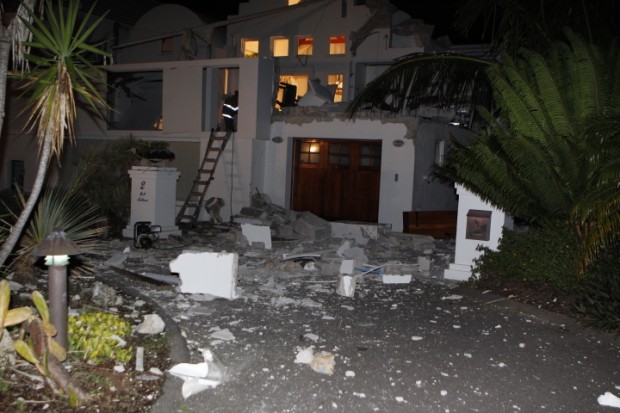 Update 8.36pm: The photo below is of a neighbouring property, showing the window damage they sustained.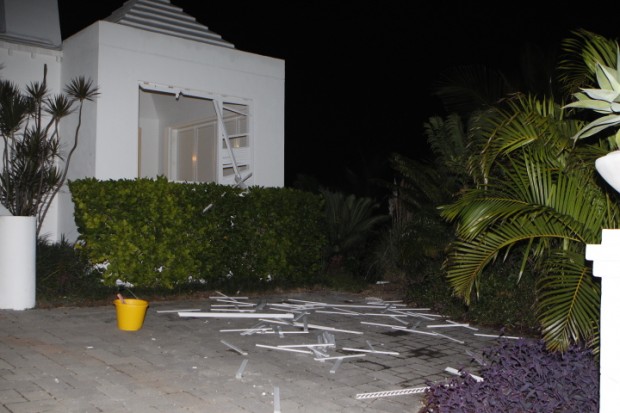 Update 9.19pm: Speaking with one of the neighbours, he said he heard a massive explosion, and initially thought lightning struck the house. He said at first he was in shock, and said "it looked like a bomb had gone off." He said the residence adjacent had some of its windows and door blown off, and also indicated he thinks it may have been a gas cylinder exploding.
Update 11.24pm: Photo gallery added here.
Update 12.37am: Statements by Fire Service spokesperson Lt. Leonard Davis and Police Media Relations spokesperson Robin Simmons:
Read More About
Category: Accidents and fires, Accidents/Fires, All, News, Photos