[Updated with video] A massive explosion shook Devonshire at around 6.25pm this evening [Oct 16], leaving an Ariel Sands property with significant damage and the surrounding area strewn with debris after sections of the property's roof, walls and windows were blown off.
The Police and Fire Service both confirmed that no one was injured, however they did say at least one person was taken away for medical care, with the Police saying the person was treated for shock.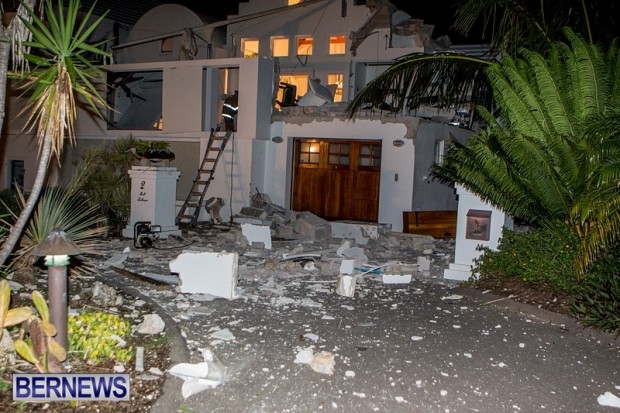 As Fire Service personnel went about investigating the scene, some of the residents of neighbouring houses were leaving with suitcases in tow.
There was a construction firm truck in the vicinity and workmen could be seen assisting some home owners secure their damaged properties for the night. As the evening went on, some people curious to see the damaged area were attempting to enter the property to have a first hand look.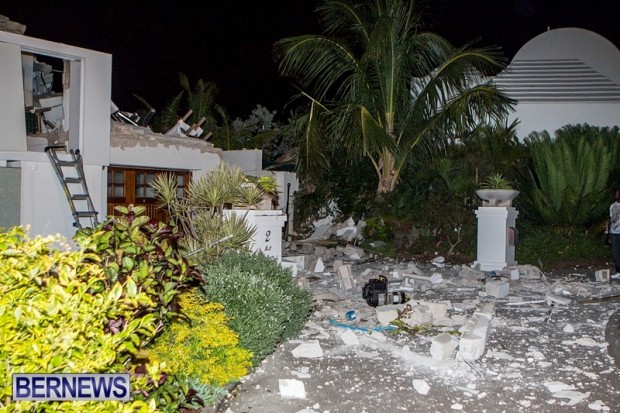 Debris could be seen strewn across many nearby properties showing the long distances the roof pieces, electrical supplies and concrete had flown from the force of the explosion.
"There was significant damage to the residence involved," said the police spokesperson. "In addition, surrounding residences had windows shattered as a result. Inquiries into the cause of this explosion are ongoing."
One of the neighbours said he was in shock after hearing the explosion, and said "it looked like a bomb had gone off" on the property.
The sound of the explosion extended past the immediate area, with Bernews readers reporting hearing it as far away as Paget and Smiths, as well as all through the Devonshire area including Hermitage Road, Lindos, Devonshire Bay, Middle Road, Brighton Hill and more.
Saying the investigation was just getting underway, neither the Police or Fire Service confirmed the cause of the explosion.
See our initial story here, and click to enlarge the photos below:
Read More About
Category: Accidents and fires, Accidents/Fires, All, News, Photos, Videos