A new study by the Department of Health [DOH] confirmed that alcohol plays a major role in Bermuda's road traffic fatalities.
The study, entitled, "The Influence of Alcohol in Road Traffic Accidents and Fatalities in Bermuda over the Past Three Years" also found that there is a correlation between heart disease and excessive or prolonged alcohol consumption.
The findings of the study were made available for the Annual Meeting of the Bermuda Drug Information Network [BerDIN] on October 24th 2013.
The Ministry said, "Alcohol is one of the underlying causes in accidents of all types, whether domestic, recreational or control of vehicles [e.g. motor cycles, motor cars or marine vehicles]. Under the Road Traffic Act 1947, Bermuda's legal blood alcohol limit is 80 milligrams per 100 milliliters.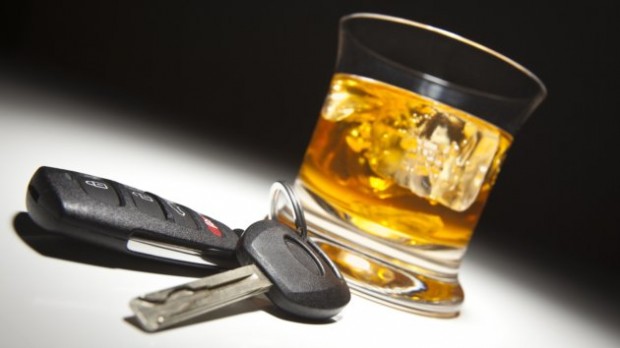 "The aim of this DOH study was to determine if there is a correlation between blood alcohol levels in drivers of vehicles involved in road traffic accidents and fatalities and also to determine if there is some correlation between alcohol and morbidity rates. The information used was taken from pathology and toxicology findings from 2010 to present.
"When one is suspected of driving under the influence [DUI], blood samples are only taken when an accident occurs that renders the person unable to blow into a breath analyzer due to their injuries. Venous blood samples are transported to the lab for analysis.
"If a person succumbs to their injuries, an autopsy in carried out. In this case of sudden death, biological samples are collected and sent for toxicology analyses. The findings are then reported and sent to the pathologist to determine factors contributing to death.
"The determination of alcohol content is carried out by chromatography which allows for a fast, simple and very reproducible measurement of alcohol content. Samples collected in preserved specimen tubes were analysed and the data collated according to its categories [e.g. DUI, RTF (Road Traffic Fatality) and "sudden other" were alcohol was present].
Data Findings
In 2010 there were 15 suspected DUI cases where blood was taken, and nine of these individuals contained alcohol in their systems.
Eight Road Traffic Fatalities that same year had alcohol in their systems, with documented injuries ranging from sub cranial or sub dural hemorrhaging to blunt impact or chest and abdominal trauma.
Out of 32 sudden deaths in 2010, 50 percent contained alcohol and/or drugs of abuse. 94% were males aged from 20 to 65 years.
Some of the circumstances around the sudden deaths documented heart disease, drowning, heart failure-pulmonary oedema, found unresponsive, left ventricle failure -fatty liver cardiac arrest, sudden collapse, homicide and coronary artery occlusion.
In 2011 there were 27 sudden deaths that included RTFs and 23 suspected DUI cases. Due to the closure of the lab at the end of 2010, some of the 2011 cases were sent overseas; therefore the results are not represented in this study. However, cases received during the latter part of 2011 were analysed in the lab which resulted in four having alcohol present in their system and were all male.
In 2012 there were 23 suspected DUI cases where blood was taken, of which 14 had alcohol present in their system.
There were four RTFs, listing various injuries due to trauma, which had alcohol in their system and out of 43 sudden deaths in 2012, 21 percent of the samples contained alcohol and or drugs of abuse recording only one being female.
Circumstances around sudden death cases for that year included: found unresponsive, suspected drug user, hemorrhage, gunshot wound, homicide, heart attack and heart disease.
Until October of this current year, 2013, 11 suspected DUI cases were submitted where blood was taken and two showed alcohol present. However, others had either no alcohol or had tested positive for a drug(s).
Five RTFs were confirmed to have alcohol in their system and some in combination with a drug(s) and nine sudden deaths contained alcohol or drugs and alcohol.
Circumstances around sudden deaths were alcohol or alcohol and drugs were confirmed documented homicide, Ethanol cirrhosis, homicide, found unresponsive and heart disease. They were all noted to be male.
Conclusion
From the review of the data it can be seen that alcohol plays a major role in RTFs. The cases of DUI, where venous blood is drawn and analyzed, can be thought of as those who have just missed being a RTF.
This study suggests that chronic alcohol abuse is associated with an increased risk of sudden death. Frequently listed pathology findings include heart disease, fatty liver [ethanol cirrhosis] and heart failure. These findings are all well documented in literature in connection with cases of prolonged or excessive alcohol consumption [link].
Most of Bermuda's RTFs were single vehicle accidents which took place late at night or in the early hours in the morning. It is important to underscore that RTFs that occurred during the day did not contain any alcohol.
The World Health Organization provides well documented information on the Global Information System on Alcohol and Health monitoring trends on alcohol related harm. [link]
Comments
"This study further highlights the adverse impact of alcohol on, not only individuals and their families, but also on our society and economy," said the Minister of Health and Seniors Patricia Gordon-Pamplin.
"The Ministry of Health and Seniors wants Bermuda residents to think twice before getting behind the wheel after drinking; or into a vehicle where the driver has consumed alcohol, especially leading up to and during the holiday season.
"DUI and excessive or frequent alcohol consumption is making a significant adverse impact on families and in communities. The data speaks for itself."
Chief Medical Officer Dr. Cheryl Peek-Ball said she supported the research and the importance of bringing to light the significant role that alcohol plays in Bermuda in sudden death, injury and chronic disease.
"This study allows us to acknowledge the social and health impact of alcohol and provides evidence to challenge the common perception that this legal, socially accepted drug is harmless," she said. "Consequences of irresponsible or excessive use are clearly very significant and should not be ignored."
The Department for National Drug Control said, "Alcohol is the most commonly used substance among Bermuda's residents. Its use and misuse are widely documented in local research among youths, college-age students, and the adult population. For many residents, alcohol has become engrained in the social fabric. The environment in Bermuda is such that alcohol is easily accessible, affordable, and readily available to all residents; even those yet to reach the legal age of consumption [18 years].
"The Bermuda Assessment Referral Center [BARC] has reported that amongst all new clients [n=149] assessed for substance use dependence or abuse in 2012, 73 indicated alcohol as their drug of choice; and of those persons referred for residential treatment services, at both the Men's and Women's Treatment Centers, alcohol is usually indicated as the first substance of experimentation with the age of first use being as low as eight years for some clients.
"In 2012, four men who presented for services said their primary drug of choice was alcohol; whereas, there were no women in treatment who said their primary drug of choice was alcohol during the same time period.
"The Department for National Drug Control advocates for responsible alcohol behaviour and advises that if you do not currently drink alcohol, don't start. If you do consume alcohol, do so responsibly."
Read More About
Category: Accidents and fires, All, News