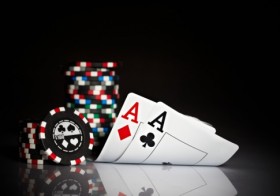 CEO of the Bermuda Hotel Association [BHA] John Harvey said they support the Government's recent decision to have Parliament decide on gaming, saying they believe that "gaming will have a positive impact."
On Friday [Dec 13] Premier Craig Cannonier announced that instead of holding a referendum on gambling, the matter will be decided by a vote in Parliament.
The decision resulted in a wide range of reactions, with many praising the Premier for making a bold move while others questioned the decision to not follow through on their campaign pledge.  A referendum was predicted to cost around $500,000.
With the OBA having the majority of votes in Parliament, they are technically capable of passing the legislation without any support from the Opposition.
In addition, several Opposition MPs are known to be in favour of allowing gaming, so the legislation is seen as having a good chance to to pass in Parliament.
Mr Harvey said the BHA "supports the position recently taken by the Government to cause the determination as to whether or not Bermuda will have gaming, to be decided in Parliament."
"The BHA believes that gaming will have a positive impact on current hotel performance and will persuade new hotel developers that our island home is becoming more competitive.
"Accordingly, I implore all members of Parliament to support the implementation of gaming in Bermuda, so that this significant 'Game Changer' will soon become a reality," added Mr Harvey.
The Premier's Q&A after he announced the decision on the referendum on Friday:
The BHA has long been on record as supporting gaming, and back in 2010 Mr Harvey cited a specific example of lost revenue due to our restrictions on gaming.
He said a company that was seriously considering one of Bermuda's major hotels for its group meeting, selected to go the Bahamas instead as that location offers gaming and Bermuda does not.
"The lost business, conservatively estimated at $200,000, is a blow to Bermuda's economy and hotel revenues," said Mr Harvey at the time.
Like the BHA, veteran entertainer Tony Brannon and Bermuda Chamber of Commerce President Ronnie Viera are also on record as supporting the Government's decision as it pertains to bypassing the referendum.
Read More About