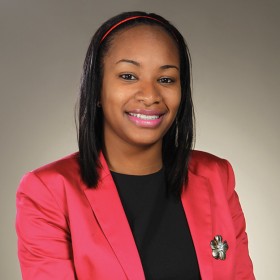 Nandi Outerbridge has spoken out this evening [Feb 17] about the recorded conversation, saying that as she "did not feel any trust toward Mr. Bean" she decided to record their conversation for her own protection.
The St. George's MP said that the Opposition Leader said "many disgusting and disturbing things" and also said that no one pressured her, she did not wear a "wire" and recorded the conversation on her cell phone.
Ms. Outerbridge said, "On Friday in the House of Assembly I was challenged by the Opposition Leader Mr. Marc Bean in regards to a conversation we had last year.
"The conversation took place at a time I was going through a personal family challenge. Mr. Bean had been contacting me frequently on the day of the conversation, via text messages, saying that we should have a conversation to discuss my 'situation.' It seemed he was not going to give up on speaking with me, so I decided to meet him.
"I must say that I did not feel any trust toward Mr. Bean and so decided, for my own protection, to record our conversation. I did so using my cell phone.
"During the conversation, which took place in the Opposition lounge outside the House of Assembly, Mr. Bean said many disgusting and disturbing things that, if heard, the people of Bermuda would see in a poor light. In addition, he said I would be attacked if I did not resign, as he could not control some of his other colleagues.
"I want to say I have no intention of releasing the tape because it was for my personal protection at that time and should have never been a topic of any other person's conversations.
"On a final note, Mr. Bean said I was pressured to wear a 'wire' to record the conversation. No one pressured me and I did not wear a wire. He is just assuming that that was what happened. I hope this at least sets the record straight."
Read More About