The Catlin National Triathlon took place yesterday [May 11], seeing scores of triathletes come together in order to compete in a swim, cycling, and running event.
The triathlon began with the swim segment in the waters of Clearwater Beach in St. David's, where local sports champion Tyler Butterfield would record a time of 20:45, setting him on pace to become a Catlin National Triathlon Champion.
Winners Tyler Butterfield and Karen Smith after the race: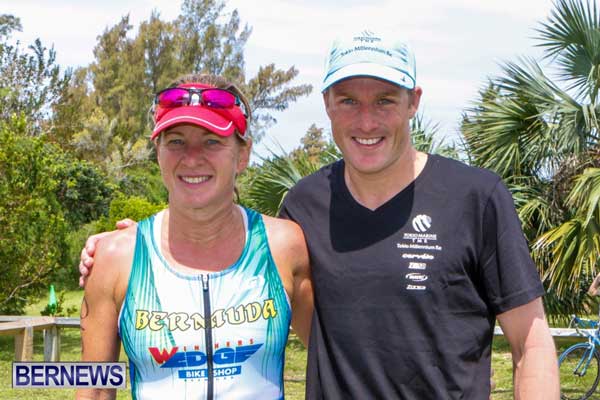 Butterfield went on to record a time of 1:00:31 on the bike course and 33:23 on the run course to finish with an overall time of 1:55:49, nearly a full 15 minutes ahead of second place finisher Jonathan Herring, who recorded a time of 2:10:36; Mark Robinson was the third finisher overall with a time of 2:14:22.
Karen Smith, the eventual female champion, began the event by recording a time of 25:39 during the swim, following up with at 1:10:29 during the cycling segment and 44:19 on the run portion, giving her first place with an overall time of 2:21:37. Laurie Orchard was the second female finisher, clocking a time of 2:24:39, while Amber Mehta finished third with a time of 2:32:28.
Read More About