The Fairmont Hamilton Princess has taken the time to show off its newly renovated Poinciana Wing, including 69 rooms, the addition of a marina and an infinity pool, and the recent opening of the 1609 bar and restaurant.
Roydell Neverson, the Director of Rooms at the Fairmont Hamilton Princess Hotel, said, "We're very excited. We started our renovations in November of 2013 and we've completed 29 suites, two 2-bedroom suites, and 38 deluxe rooms.
"We came in, completely stripped the hotel, and started from scratch. The two 2-bedroom suites are brand new, the Deliverence and the Patience, tying into our Bermuda history and the bar and restaurant 1609."
"Depending on what room you book, we have views overlooking our infinity pool, Hamilton Harbour, our marina, as well as our garden. In addition to that, our 2-bedroom suite overlooks the marina, Hamilton Harbour, as well as our 1609 bar and restaurant.
"Besides the blue pastel colours that we used, we have a Bermudian artist that has done modern art for our suites, as well as our deluxe rooms in the hotel."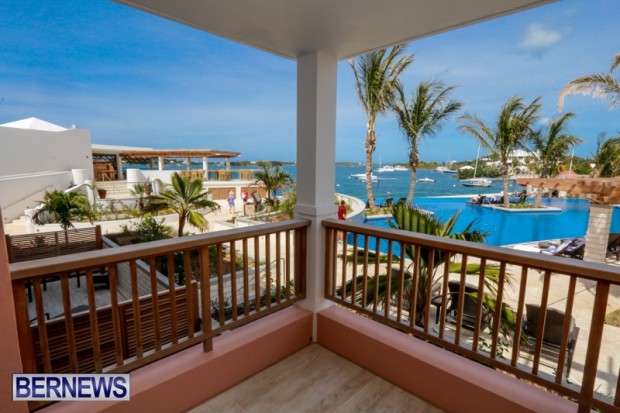 "We've upgraded our technology; we've got media panels, and all of our rooms have 42 inch televisions. We've also renovated our bathrooms, so we've put some beautiful tile in.
"We're very excited to introduce Marina Nights, located on our new marina, just before you get to our bar and restaurant, 1609, overlooking the Hamilton Harbour with stunning views. We invite everyone to come by to have a cocktail. We're also going to have a food station that's going to be providing food from 1609."
Click to enlarge photos:
Read More About