In the fifth of a series of profiles of designers taking part in the Local Designer Showcase, Bernews today spotlights Kiara Richardson. The Local Designer Showcase is set to be held on July 10, 2014.
When asked about her reasons for participating in the Local Designer Showcase, Ms. Richardson said, "I wanted to participate in this year's designer showcase because I felt like it would be a great opportunity to work with someone in the fashion industry, being that each designer is given a mentor. When I found out that we would be given the opportunity to work with a fashion editor, I was ecstatic and knew I wanted to take part.
"I saw it as a golden opportunity. I also wanted to be a part because I heard nothing but positive feedback from last year's showcase, and I wanted to be a part of this year's production. I love to create pieces that I feel represent me, and for this show I wanted to give the audience something different from my normal looks."
Kiara Richardson poses in a dress of her own design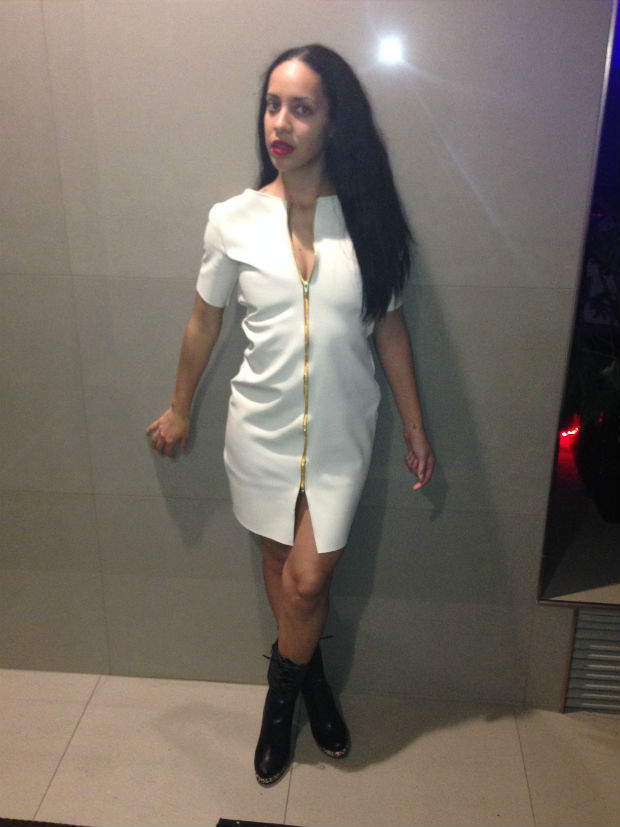 When asked what she hoped to get out of the experience, Ms. Richardson said, "From this whole experience, I hope to gain exposure and more knowledge. Working with my mentor has helped me tremendously, in every aspect. I have learned how to better manage my time, how to market my brand, and how it truly feels to be a designer."
When asked what progress had been made so far on the completion of her line, Ms. Richardson, "As of June 20th my entire collection has been completed. I cannot wait for everyone to see my pieces. It was a long road, but I am beyond excited about the outcome."
When asked what her favorite piece in her new line was, Ms. Richardson said, "To be honest, I don't have a favorite piece; I am obsessed with every look. As I said, I wanted to take a break from my customized pieces and create a collection that is fun and chic. All of my pieces are modern, and ready-to-wear. This is my first collection that I have successfully completed since beginning my career as a designer."
When asked what her experience with her mentor was like, Ms. Richardson, "I absolutely love my mentor! Rachael Wang is a fashion stylist, creative consultant, fashion market director at Nylon Magazine and by far the most amazing person I have ever met. She has been a huge help to me over the past three months."
Ms. Richardson's Designer Showcase ad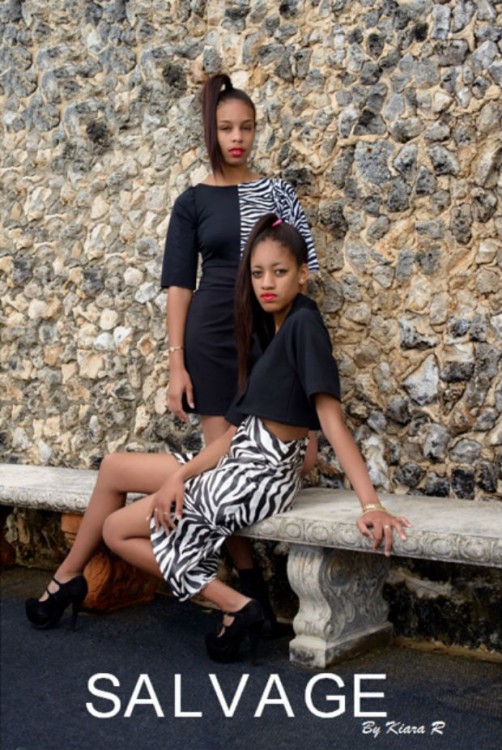 "She has helped me with everything from picking my sketches to deigning my ad campaign. Without her, I probably would not feel as confident as I do to showcase my collection on July 10. She is so much fun, and believes in me 100 percent."
When asked how she knew that design was her passion, Ms. Richardson said, "I always knew designing was my passion, because in high school my favorite place to be was in fashion and textile class at Cedarbridge Academy. I never wanted to leave that class; I just wanted to sew all day. During my lunch hours I would sit in and finish an assignment that I was working on in class. When I would finish one project, I would quickly move onto the next, with as much excitement in my eyes as if it were the first time ever sewing."
When asked what the future holds for her as a designer, Ms. Richardson said, "I believe the future will be bright for me as a designer and for my brand. I am looking to go back to school to get my degree in fashion, and one day work abroad with well-known names."
When asked how she would describe her sense of style, Ms. Richardson said, "Describing my sense of style is hard. I really dress depending on my mood. I can't say that I am specific or consistent with what I wear, or what I am into. I wear whatever I feel like that day. When it comes to my sense of style in designing, I love a clean, chic look. I love a piece that has been beautifully created."
The City of Hamilton will play host to the second edition of the Local Designer Showcase on Thursday, July 10, 2014 at Pier Six [upper level], with eight local designers to be showcased for their talent and unique work. Each designer has been peered with a mentor from within the fashion community to assist them with the development of a fashion line that will be showcased at the event.
Read More About
Category: All, News, Style & Beauty