Island residents yesterday [Oct 14] united to praise Bermuda Regiment soldiers who have worked to repair the damage caused by Tropical Storm Fay.
Regiment teams again fanned out around the Island to help clear up debris and patch damaged roofs as a new hurricane threat looms on the horizon.
Health Visitor Diane Gledhill, who looks after babies and young children in the community, stopped to watch a clean-up team clearing debris from a road in Paget.
She said she depended on clear roads to make sure she got around the youngsters in her care.
Regiment soldiers from a clean-up team with Warwick Pre-School administrator Jennifer De Rosa Holder [back, centre] and some of her staff.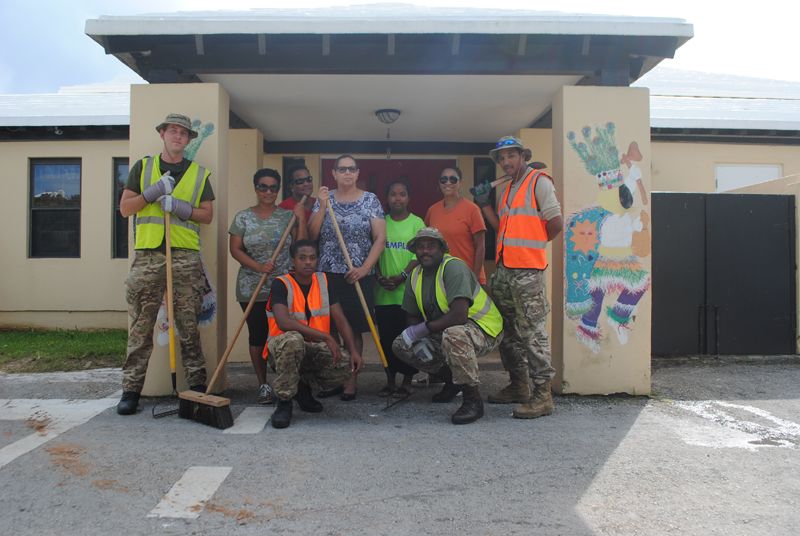 Ms Gledhill, from Somerset, added: "It's absolutely wonderful – I just think the Regiment is doing a great job and we're very grateful. It's a huge job and a lot bigger than people realise.
"What has struck me is the great sense of cameraderie – everybody's helping everyone else. I've never seen anything like it."
Retired Bermuda College English teacher Catherine Ziepniewski called on the Regiment after a massive tree toppled on to the roof of her home in Frithcote Lane.
US-born Ms Ziepnieski, 66, said she and her husband William were unable to deal with it themselves.
Regiment soldiers with some of the debris cleared away from around Warwick Pre-School.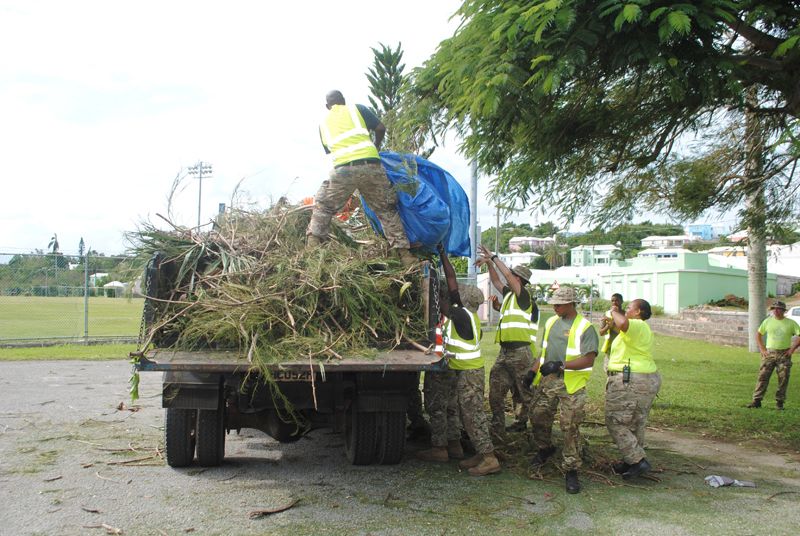 But she added: "The soldiers have been very polite – they've been right out there, nose to the grindstone ever since they arrived. I can't say enough about the Regiment. They've been very pleasant to deal with."
"Nobody thinks about the Regiment until a disaster happens – that's silly. They remind me of the National Guard at home who always turned out in an emergency. It's important to the community."
Works & Engineering truck driver Malaika Butler-Douglas, who teamed up with a Regiment crew working to remove a massive tree which blew over into the grounds of Christ Church in Warwick, added: "The guys and the girls from the Regiment are doing a really good job."
And Ms Butler-Douglas, who gained her heavy vehicle driving qualifications while serving in the Regiment more than a decade ago, said: "They're very helpful and they just want to do everything they can to clean up."
Sgt Maj. Rupert Lambert prepares to wield a chainsaw to clear a tree that toppled on to a house in Warwick.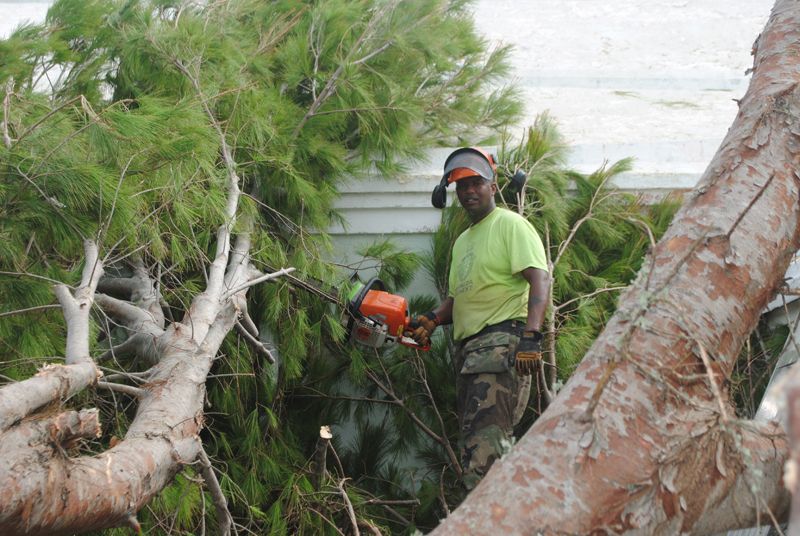 Christ Church elder Roger Oldfield said: "It's fantastic. Even on Sunday, we saw their efforts. It was good to see.
"The Regiment have been very supportive of the public wherever and whenever they've been required, whether it's a member of the public or the Government. They always come to the wicket when you need them."
Another squad, commanded by Lt Gordon Emmerson, worked along Middle Road, cleaning up roads and public areas like the ground around Warwick Post Office and Warwick Pre-School.
Pre-School administrator Jennifer DeRosa Holder said: "I was elated – so happy to see them.
Regiment soldiers clear a stretch of Ord Road in Paget of potentially dangerous debris.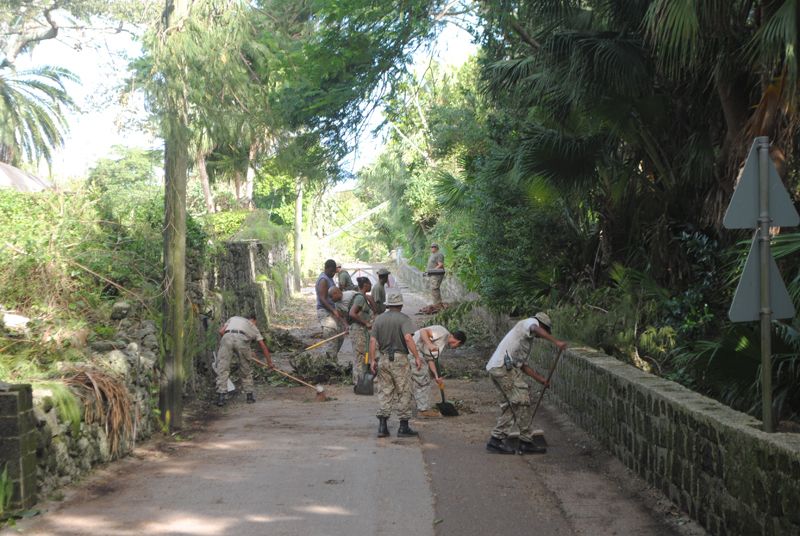 "They just came and they had fun while doing it and they even vacuumed water from a flooded classroom floor. They were delightful to have around and they made the area as safe for the children as possible."
"I don't know what will happen if Hurricane Gonzalo hits on Friday – but I'm sure the Regiment will be there."
Postmistress Tamara Tucker added: "I was grateful – they cut down a tree for me and cleared the passageway. People are very happy to see the Regiment out there cleaning things up."
Governor George Fergusson and wife Margaret, who have visited areas and families affected hit by the storm, stopped to talk to the Regiment team working outside Christ Church.
A Regiment soldier and a civilian contractor digger driver team up to safely remove a tree that toppled into the grounds of Christ Church, Warwick.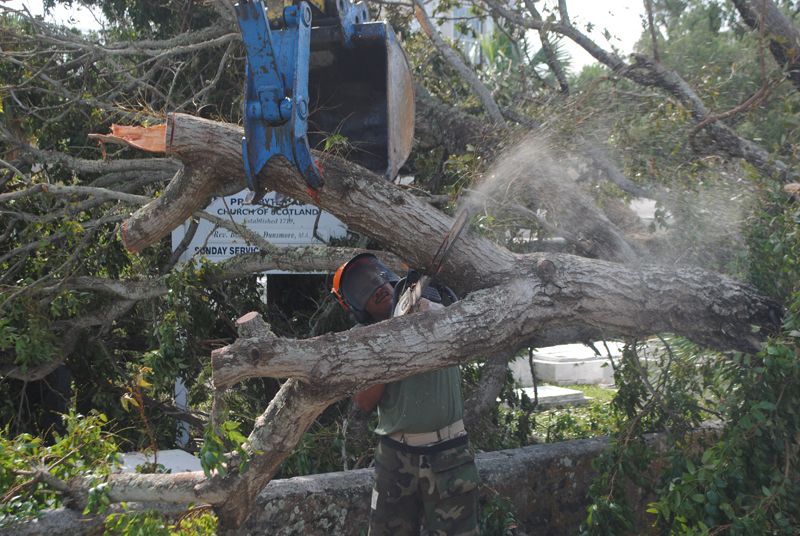 Mr Fergusson said "The Regiment has done a fantastic job. The first Immediate Response Teams were out on Sunday and were on stand-by before that."
He added he had personally visited the Corday family of Somerset, where a Regiment team on Monday used tarpaulins to make their wrecked roof wind and watertight.
Mr Fergusson said: "They were very pleased to see the Regiment there."
For all our coverage of Tropical Storm Fay click here, for all our coverage of Hurricane Gonzalo click here, and for our live blog covering both Gonzalo and Fay click here.
Read More About
Category: All