As Bermuda's cruise ship season nears its end this year, the 2015 Cruise Ship schedule has been released and it shows we are scheduled to receive a total of 136 cruise ship visits next year made up of 100 regular or contract ship visits and 36 occasional visits.
This is in comparison to the 2014 total of 130 cruise ship visits made up of 104 regular or contract ship visits and 26 occasional visits and shows an overall increase of six visits.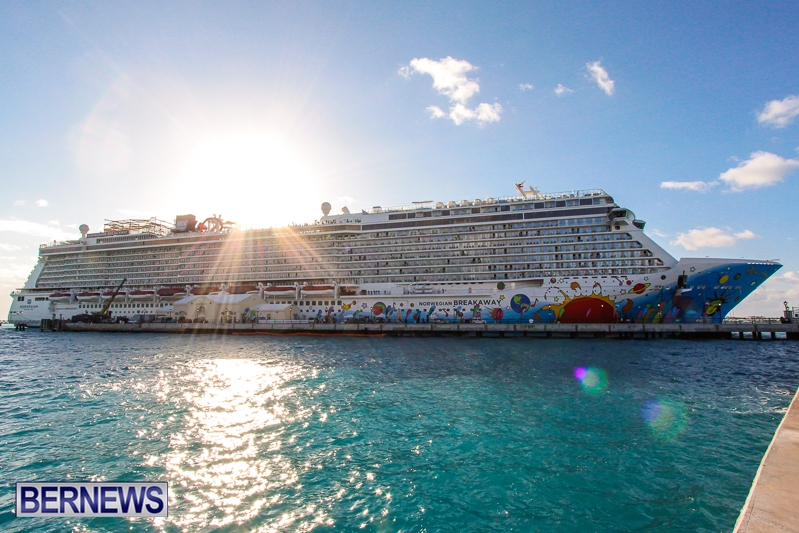 Regular weekly cruise ship visits will see the Celebrity Cruise Ship Summit visit 19 times arriving at King's Wharf in Dockyard on Wednesday mornings while Norwegian Cruise Line's Norwegian Dawn will see 22 visits arriving at King's Wharf on Sunday mornings.
The Grandeur of the Seas operated by Royal Caribbean visits 12 times arriving at Heritage Wharf in Dockyard on Sunday afternoons, while Royal Caribbean's Liberty of the Seas will make 21 visits. The Norwegian Breakaway will make 26 visits, arriving at Heritage Wharf on Wednesday mornings.
St. George's has three cruise ship visits scheduled for the year, while Hamilton will see sixteen visits scheduled with the returning Veendam representing six of those visits.
After their initial announcement earlier this year that they would be returning to Hamilton in 2015, Holland America Line confirmed in June that they will offer six seven-day cruises aboard the Veendam to Bermuda next year.
The Government previously said that approximately 366,000 cruise visitors are projected for 2015, which they said will contribute over $90 million to Bermuda's economy, which includes Government taxes, on-Island purchases made by cruise visitors and crew members and shore excursions taken by cruise visitors.
The 2015 Cruise Ship Schedule [PDF here] follows below:
Read More About