The Bermuda Underwater Exploration Institute [BUEI] and the Bermuda Audubon Society are getting set to present a lecture by artist Bruce Pearson titled "Troubled Waters: Trailing the Albatross and Cahow, an Artist's Journey."
The lecture will take place on November 10, 2014 at 7.30pm.
The exhibit's flyer says, "Join us for an evening with world-renowned bird artist, author and naturalist, Bruce Pearson. Bruce first voyaged to the Southern Ocean over 35 years ago to study albatrosses and other seabirds, working in a creative partnership with BirdLife International.
"Hear about his recent return to the Southern Ocean, the aim of the Troubled Waters partnership and how Bruce's visit to Bermuda to engage with the cahow and its conservation story is an exciting opportunity to develop new aspects of the Troubled Waters project.
"For the past 20 years, Bruce's work has largely involved private commissions from individuals, museums and institutions; and by invitation from the Artists for Nature Foundation [ANF]. Bruce has participated in international art events and exhibitions in USA, France, Holland, Spain, Poland, Ecuador and Peru."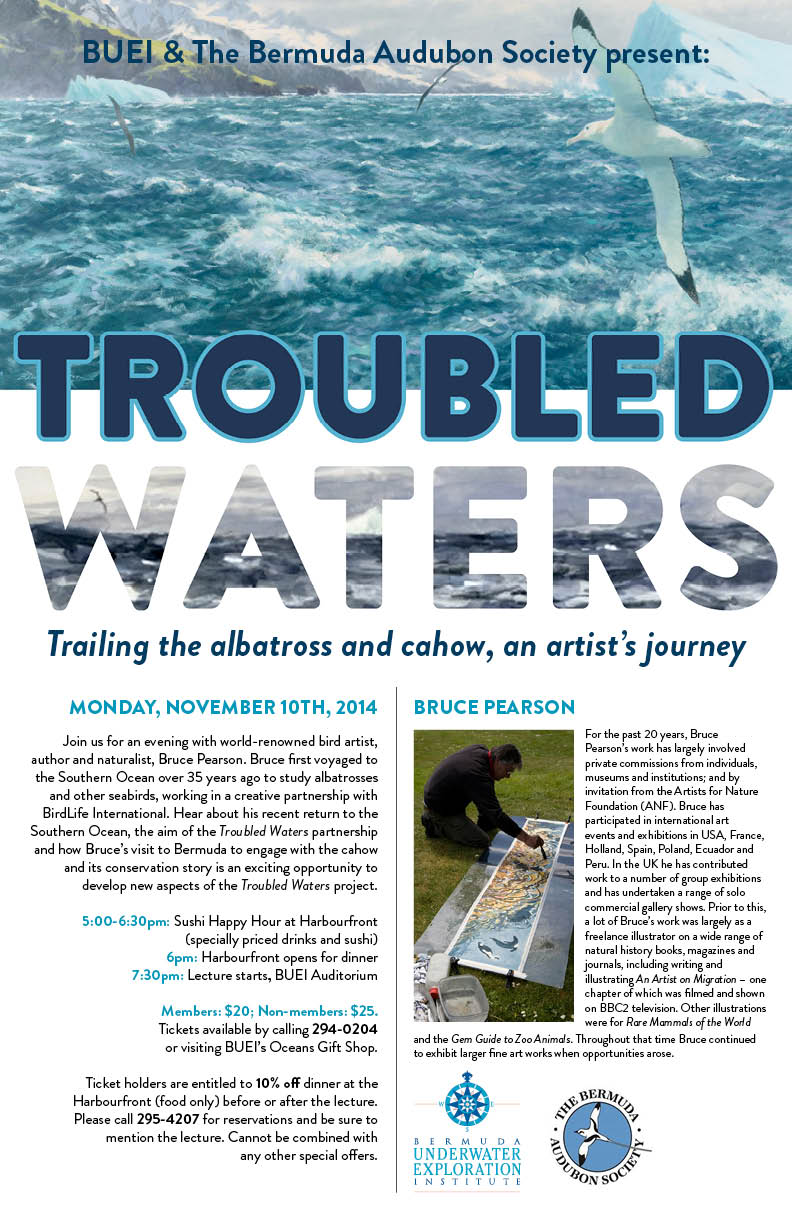 "In the UK he has contributed work to a number of group exhibitions and has undertaken a range of solo commercial gallery shows.
"Prior to this, a lot of Bruce's work was largely as a freelance illustrator on a wide range of natural history books, magazines and journals, including writing and illustrating An Artist on Migration – one chapter of which was filmed and shown on BBC2 television.
"Other illustrations were for Rare Mammals of the World and the Gem Guide to Zoo Animals. Throughout that time Bruce continued to exhibit larger fine art works when opportunities arose."
The event will begin with a Sushi Happy Hour at Harbourfront from 5.00pm through 6.30pm, with specially priced drinks and sushi on hand, with the Harbourfront opening for dinner at 6.00pm. The lecture itself will begin at 7.30pm in the BUEI Auditorium.
Tickets cost $20 for members and $25 for non-members and can be purchased by calling 294-0204 or by visiting BUEI's Oceans Gift Shop.
"Ticket holders are entitled to 10 percent off dinner at the Harbourfront [food only] before or after the lecture. Please call 295-4207 for reservations and be sure to mention the lecture. Cannot be combined with any other special offers."
Read More About
Category: All, Environment