The Open Your Heart Foundation [OYH] is getting set to host its third annual Boxing Day Extravaganza on December 26, 2014, with a variety of free entertainment for children and adults alike to enjoy.
The event will take place from 10.00am through 6.00pm at Ireland Rangers Field in Dockyard, with food and beverages, fun castles, face painting, hair cuts, nail painting, Gombeys, six-a-side football, gifts for children, and more.
A spokesperson said, "The Open Your Heart Foundation was the brainchild of a small group of guys that saw a need in their community for togetherness and support for the kids. They decided to give back by hosting two community events, one each on Boxing Day and Good Friday.
"These events were offered for free with these young man paying out of their pocket to foot the associated cost.
"Their dream is to make something so big that it will not go unnoticed by those that have the resources to make a difference and become a part of change within the Bermuda community. Open Your Heart prides themselves on the fact that every single penny goes directly to the kids.
"Therefore, sponsors can see first-hand where their money is being spent as Open Your Heart actually gets their sponsors to pay directly to the company or business whose resources are being used.
"In the past, the Open Your Foundation has expanded due to loyal volunteers and individual sponsors, with their ages ranging from 18 to 88 and donations ranging from $10 to $2,000. With help from the community, these events have been bigger and better then expected. The main purpose is to show the island that there are still people that care."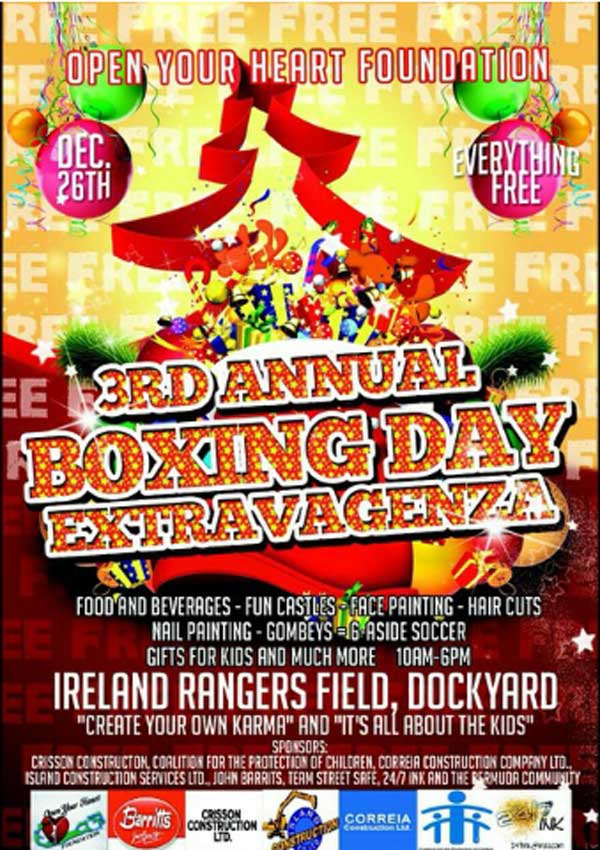 "The ultimate goal is to inevitably not have to come out of pocket but to put in the leg work, organising and promoting these wonderful events and occasions with the help of people and businesses that are just as passionate as we are, but with more resources.
"Open Your Heart would like to, in advance and in the future, show our appreciation by letting the island know about the people who have become as passionate as us and have helped to make these events possible as times go on.
"Those people and organisations include Correia Construction Ltd, Play Games Entertainment, Barritt's, Island Construction Co. Ltd, The Coalition For The Protection Of Children and Team Street Safe, Crisson Construction Ltd, 24/7 Ink, 2nd Glance Hair Salon, SCC, IRFC, WCCC, and Woodys Bar and Restaurant.
"Open Your Heart sends its love and thanks to all who have helped with the cause – thank you all for making this possible.
"This year's Boxing Day Extravaganza will be held at Ireland Ranger in Dockyard from 10.00am through 6.00pm. The day will include food and beverages, kids activities, fun castles, face painting, six-a-side soccer, Gombeys, as well as hair cuts for boys and nail painting for girls.
"Each child will also receive a gift. Everything on this day is absolutely free. This will be a day full of fun with family and friends that you don't want to miss it."
Read More About
Category: All, Entertainment