[Updated with video] Eight local schools received $30,000 each at the culmination of PartnerRe Ltd.'s successful Dollars for Hours project that pairs student volunteers with local charities on community projects.
At an event hosted this evening [Dec 16] by PartnerRe to celebrate and showcase the students' achievements, PartnerRe's President and CEO, Costas Miranthis and Minister of Education & Economic Development Dr. Grant Gibbons congratulated the students on their hard work and thanked everyone involved for their contribution to the Dollars for Hours initiative.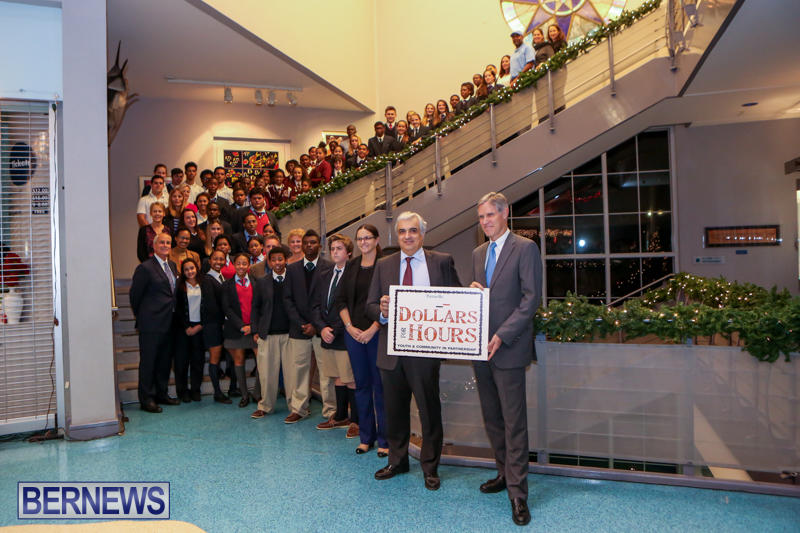 "2014 marks the ninth time that we have paired local charities with the secondary schools, bringing our total Dollars for Hours donation to more than two million dollars since the program's inception," said PartnerRe President and CEO Costas Miranthis.
"As a Bermudian company, we have a genuine interest in Bermuda and in particular, its young people. Dollars for Hours is a long term partnership that creates a win-win-win situation for everyone involved."
.
Over the years, Dollars for Hours: Youth and Community in Partnership has had over 1,500 students from eight secondary schools donate 17,000 hours of hands-on support to local charities for a total donation of over $2 million to date.
This year, the students, aged 14 to 18 successfully completed projects ranging from environmental schemes, educational projects and health-related initiatives.
Participating schools will use the funds for: curriculum development, classroom upgrades, bursary and scholarship funds, extracurricular activity support, student incentive programs, IT equipment, and infrastructure projects.
This year's projects include:
Bermuda Diabetes Association & Mount Saint Agnes – Diabetes risk assessment survey
BIOS & Somersfield – Coopers Island Nature Reserve clean up
Bermuda National Trust & CedarBridge – Conservation management at Sherwin Nature Reserve
BUEI & Warwick Academy – Community Survey to track public awareness of BUEI
Greenrock & Bermuda Institute – Healthy Harvest Community Garden
Kaleidoscope & Saltus – Mural painting & garden cultivation at Kaleidoscope building
Meals on Wheels & The Bermuda High School – Kitchen cleaning project
Women's Resource Centre & Berkeley – Annual tag day preparation
Click to enlarge photos:
Read More About