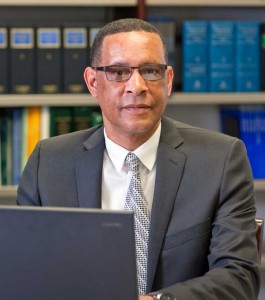 The Bermuda Monetary Authority registered 89 new insurance entities in 2014, 65 new insurers and 24 new intermediaries.
Shelby Weldon [pictured], Director, Licensing & Authorisations stated, "The most significant area of growth in 2014 was in our Long-Term [life] sector, with four new Class E insurers, five Class C insurers, and one Class A insurer establishing in Bermuda during the year.
"This compares to six Long-Term registrants in 2013 – three Class C insurers, two Class B insurers and one Class A insurer."
Class E license holders are the largest of Bermuda's Long-Term insurers, each required to have total assets of more than $500 million. The new Class E insurers commenced business with over $2 billion of assets.
"An influencing factor in the growth of our Long-Term sector was the National Association of Insurance Commissioners' [NAIC] granting conditional Qualified Jurisdiction [QJ] status to Bermuda in December 2013." Mr. Weldon said.
"QJ status allows reinsurers froma particular domicile toreinsure US risk on a non-discriminatory basis and benefit from reduced collateral requirements."
The NAIC is the US standard-setting and regulatory support organisation created and governed by the 50 US State insurance regulators, the District of Colombia and five other US territories.
"In December 2014, the NAIC Executive and Plenary Committee granted Bermuda full QJ status effective 1st January 2015," Mr. Weldon added.
"This is a great achievement for the Authority and Bermuda's reinsurers who reinsure US risks. Bermuda firms are encouraged to contact the relevant US State insurance commissioners regarding their eligibility for reinsurance collateral reduction."
In addition to the ten Long-Term insurers, 16 new captives, 11 new commercial insurers writing general business and 28 Special Purpose Insurers [SPIs] registered during 2014.
"The significant level of activity experienced in the SPI licensing class was not surprising in light of the increasing role of this segment in the global reinsurance sector. Many of the previously registered SPIs have chosen to enter into new transactions once the initial transaction has gone off risk or are using a segregated accounts structure to enter into multiple deals," Mr. Weldon said.
Both captive and commercial registrations remained moderate during 2014, however, Mr. Weldon reported that the Authority's Assessment & Licensing Committee granted approval to an additional 22 captive and commercial insurers which the Authority anticipates will formally register in the first quarter of 2015.
In terms of the beneficial ownership of the new insurers, the US was far and away the most significant jurisdiction once again, with Bermuda and Europe second and third respectively. Two new insurers from Latin America and two captives from Canada were amongst the new registrants in 2014.
Mr. Weldon said, "The Authority is pleased to see the recent initiatives championed by the Bermuda Business Development Agency [BDA] in these two geographical regions translate into new registrations. The Authority remains supportive of the BDA and will continue to assist with their efforts to attract new business to the jurisdiction."
In the asset management space, the Authority registered 80 new funds in2014, including 25 new funds which have availed themselves of the recently introduced Class A and Class B Exempt Fund Classes.
In conclusion, Mr. Weldon noted, 'That the 2014 registration activity continues to demonstrate Bermuda's global position as a leading alternative risk transfer marketplace.
"We remain the global leader in both captives and Insurance Linked Securities and our international reinsurance sector remains one of the world's top reinsurance markets. Recent efforts have also seen renewed interest in Bermuda from funds and asset management entities and we hope to build on that momentum throughout 2015."
Read More About