The Pirates of Bermuda are set to take more than 50 community members hostage, all in the name of a good cause, with the hostages to be saved by the paying of charitable ransom or made to walk the plank on Sunday, March 1, 2015.
Organised by the Bermuda Sloop Foundation as its largest fundraiser of the year, the event features a charitable goal of $200,000; the 2014 iteration of the event raised more than $150,000, while the 2013 event raised more than $100,000.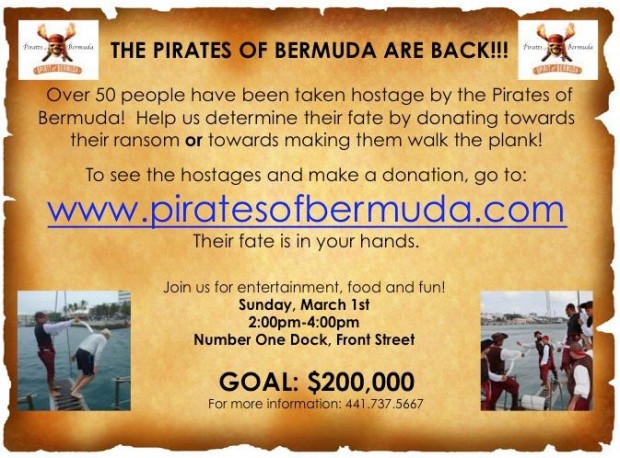 The event flyer says, "Over 50 people have been taken hostage by the Pirates of Bermuda! Help us to determine their fate by donating towards their random or towards making them walk the plank. To see the hostages and make a donation, go to piratesofbermuda.com. Their fate is in your hands."
Slideshow of hostages walking the plank last year:
-
According to the website, this year's "hostages" include:
Alan Brooks – General Manager PW Marine
Alison Hill – CEO The Argus Group
Alan Burland – BSF Co-Chairman of the Board/BCM McAlpine
Amy Adderley – Controller, Coldwell Banker Bermuda Realty, Rear Commodore, RHADC
Andrew Mackay – General Manager, Gorham's
Arthur Wightman – PwC, Bermuda Territory Leader and Insurance Leader
Ashley & Chris Estwanik – Fastest couple in Bermuda
Tom Miller – PwC, Managing Director
Curtis Dickinson – Executive V.P., Butterfield Bank
Dr. Michael Weitekamp – Chief of Staff, Bermuda Hospitals Board
Dr. Tim Jackson – Principal, Sandy's Secondary Middle School
Ed Faries – Commodore, RHADC
Fred Swan – Math Teacher, Bermuda Institute
Gail Miller – VP of HR, OIL Insurance Ltd.
Georgia Marshall – OBA Senator, Marshall, Diel & Myers Ltd.
Greg Wojciechowski – President & CEO, Bermuda Stock Exchange
Linda Parker – Head of School, Bermuda High School for Girls
Detective Inspector Mark Clarke – Bermuda Police Service
Jada Davis & Zanaeyah Pratt – 10 year-old students from West Pembroke Primary School
James Mitchell – RenaissanceRe
Jay Riihiluoma – Riihiluoma's Flying Colors
Jeff Manson – RenaissanceRe
Jevon Roberts – Part Owner of CEO, Transport Ltd.
Jodi Lewis – CEO, JD Lewis Group
John Buckley – Finance Director, Bacardi
Kitty Knudsen
Kanhai Woolridge – Fairmont Hamilton Princess
Katrina Caines – Cornerstone Bible Fellowship
Keevil Burgess 'The Captain' – VSB, Mix 106 FM
Keith Griffin – Ariel Re
Kenneth Bascome, J.P. – Member of Parliament for St. George's
Kim Greene – Bermuda Police Service
Kip Herring
Bishop Nicholas Dill – Church of England
George Cubbon – Rear Commodore, RBYC
Lt. Col. Michael Foster-Brown – Bermuda Regiment
Lynanne Bolton
Mario Thompson – Department of Marine & Ports
Neil Paynter – Clearwater Middle School/St. George's Cricket Club
Neil Redburn – Vice Commodore, RHADC
Norma Thomson – Nonna's Kitchen
Oda Mallory – Media Guru
Richard Boyd – Orbis
Diana Martin – CEO, Bermuda Sloop Foundation
Rian Lindo – Bermuda Karting Club
Scott Watson-Brown – PwC, Bermuda Managing Director
The Hon. Wayne Scott, JP, MP – Minister of Education
Tripp West – Westport Architecture
Victoria Cunningham, Zoe Kempe, Daryl Walwyn, Lyndsay Forrest, Marco Dattilo: Tokio Millennium Re
Leyli Walker & Kirsty Pollett's – Leyli: Somersfield Academy Students
Craig Davis – RBYC Rear Commodore – Docks, General Manager – LinkBermuda Ltd.
Glenn Astwood – Olympian; winner of the Gold Cup; sailed Newport to Bermuda and Marion Races.

Read More About
Category: All, Entertainment, News