Coco Reef Bermuda today [Mar 19] announced its new Private Dining Experience, to be enjoyed in the exclusive Coco Reef Library. In addition to the special menu, guests will partake in an extravagant night of champagne and exceptional wines, including Caymus Special Selection 1985, Taylor Vintage Port 1963, and a variety of gifts.
The cost will be $1,000 per person, including local transportation.
Diners will be taken on a one-of-a-kind culinary journey featuring the Chef's specialties, with nine delicious, mouthwatering courses, using the finest ingredients available. Diners will be able to help plan.their menu, in consultation with Chef Michael Gomez, in order to customise their private dining experience, enabling the Chef to cater to their personal tastes and preferences.
In addition to the dinner, guests will also receive a selection of gifts, including perfume and Cuban cigars.
Dany Moorghen, The Food & Beverage Manager at Coco Reef Bermuda, said: "The idea for the private dining experience came from Coco Reef Resorts owner John Jefferis, who wanted to create an exclusive, exceptional, culinary evening in Bermuda.
"I have been working on finessing the concept for over a year. We have created menus that feature the highest quality ingredients, offering guests exceptional cuisine in a luxurious environment.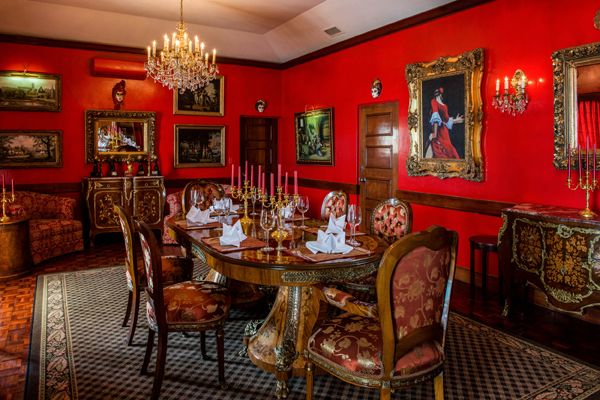 "Diners will also taste the finest wines we have to offer from around the world. The experience will be a treat for the palette."
The evening will begin with vintage Dom Perignon in the very rare "DP light Bottles". Guests will then enjoy a selection of fine wines throughout the evening to complement each course.
A sample menu created by Chef Gomez includes such dishes as: Avocado and Salmon Sashimi with olive oil, soy sauce and wasabi, Ceviche Frito with sliced onion and Tartare Sauce and Goat Cheese, Pumpkin and Spinach Agnolotti with chicken livers, pine nuts and shaved parmesan.
The Private Dining Experience is available for up to eight guests and will be served in the resort's  Library. The Library, also known as the Red Room, features luxurious, ornate decor, including a lavish mosaic antique dining table, a fireplace, French baroque furniture, candelabras, crystal and gold chandeliers and original artworks. The white glove service overseen by Mr. Moorghen will complete the perfect evening.
For more information or to make a reservation, contact Coco Reef Bermuda's General Manager Vince Angelo at vangelo@cocoreef.bm or on 236-5416.
Read More About
Category: All, Business, Entertainment, News