Bermuda's Flora Duffy put on a commanding performance to win the XTERRA Asia-Pacific Championship in Australia today [April 18], crossing the line a full three-minutes ahead of the next competitor to successfully defend the title she also won last year.
Trizone reports, "Flora Duffy took most of the drama right out of the women's race right from the start with another dominating performance on her way to her 10th XTERRA Championship win in 11 tries since the start of the 2014 season.
"The 27-year-old two-time Olympian from Devonshire, Bermuda had the fastest swim [almost two minutes over Barbara Riveros], the quickest bike [more than two minutes over Riveros] and the second-best run split [less than one-minute behind Riveros] to take the tape in 2:36:40, a full three-minutes in front of Riveros.
Photo of Ms Duffy crossing the finish line today courtesy of XTERRA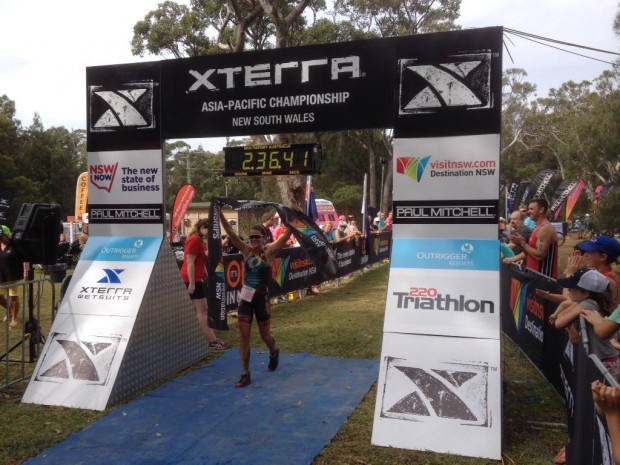 "It was a tough day out there," said Duffy. "I really wanted to defend this title, and it's a lot harder defending. I seem to be the favorite no matter what. I wanted to attack the swim and nail the bike, ride the technical bits as best I could.
"I had a few issues out there, though, with a couple mechanicals and a little crash. It was super muddy. Then I just tried to run steady, and not push too hard. I'm really happy with how it went."
The event website said the main event combines a 1.5-kilometer ocean swim with 30-kilometers of mountain biking followed by 10-kilometers of trail running, and boasts the second-largest prize purse in off-road triathlon at $50,000 AUD, and will be filmed and edited into a TV show to be seen by millions worldwide.
Read More About