The World Cruising Club's Spring rallies get underway today [May 9], with a bumper fleet of over 50 boats from 20 different countries to take part in the sailing event, which includes a stop in Bermuda.
Venturing west to east across the Atlantic, more than forty boats will sail with ARC Europe this year; thirty leaving from Nanny Cay, Tortola in the British Virgin Islands, and six from Portsmouth, Virginia, USA for the first stage of the rally, a passage to Bermuda where a further seven yachts will join.
ARC USA sailors starting from Tortola include seven yachts headed for Fort Lauderdale, Florida, whilst sixteen boats sail alongside the ARC Europe fleet to Bermuda then onwards to ports along the US Eastern seaboard.
ARC Europe and ARC USA fleet gather in Nanny Cay, Tortola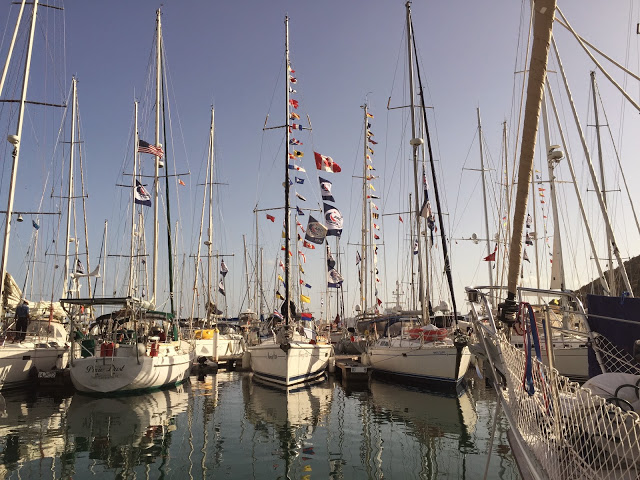 Of the boats joining ARC Europe 2015, eleven are sailing in a WCC rally for the first time including Joseph and Dawn's Ayala's Morgan 461, Pixie Dust [USA] from Oviedo, FL, USA. The crew of 5 will be making the transatlantic passage from Tortola to Europe, via Bermuda and the Azores, finishing at Marina de Lagos in Portugal in time for the European summer sailing season.
"Our family and friends are really pleased we are doing this as part of a rally, in company of others. They feel comforted by that," explains Dawn. "Everything is great so far with the rally. We've checked in, had our safety equipment check and are very happy. We are looking forward to the crossing and to spending three to five years cruising in Europe."
ARC USA 2015 Route Map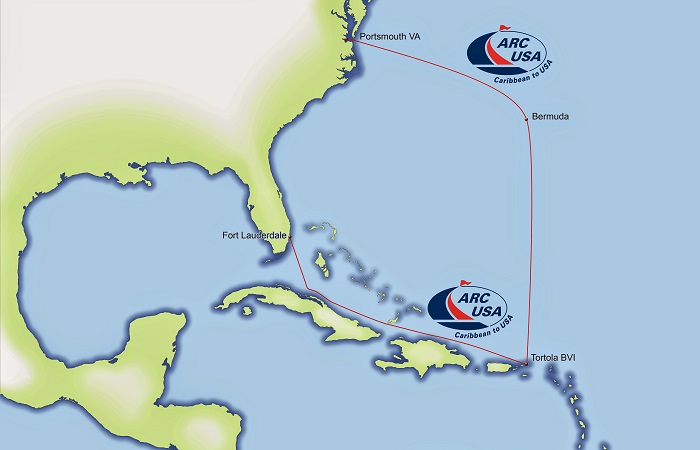 For the Moseley family, Guyon, Ali, William, David and Gordon, sailing the Leopard 48, Widago (USA), this marks the start of a life-changing new adventure featuring several WCC rallies: ARC Europe, ARC Baltic, 2015 ARC, before they head home in 2017 following completion of a circumnavigation with the World ARC.
"Once we found WCC, we were drawn by the support, camaraderie and the fact that it takes a lot of the pressure of planning away, plus the social side of course. We will continue to the Azores which we are really looking forward to and then depending on the weather, we may stop in the UK before joining ARC Baltic in Germany. Our boat is now our home," explains Guyon Moseley after leaving Key Largo, Florida.
"I'm lucky that my wife is happy to take part in this great adventure along with our three children, two aged 10 and a 12 year old. As long as I have an iPhone and email I will continue to work as I have a small business and am very flexible.
"We will both help out with schooling for the boys which we are really looking forward to. For the leg to Bermuda from Tortola I will also have my best buddy and his daughter on board. It will be lots of fun."
ARC Europe 2015 Route Map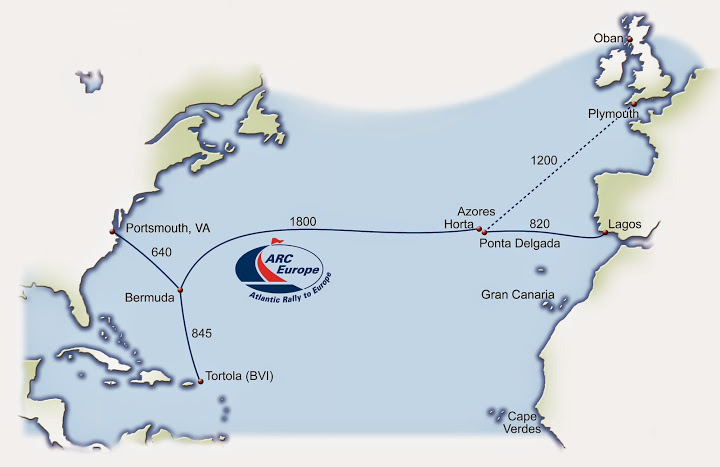 For some the rally is a convivial way to start a European adventure and for others, an end to a Caribbean season or circumnavigation. Either way, walking the docks at Nanny Cay and talking to the sailors, one thing is clear; experienced 'ralliers' are more than happy to share their wealth of experience, knowledge and expertise with first time rally participants.
From Western Australia, double handers Robert and Revle Elks' Outremer 51, Intrepid Elk [AUS] took part in ARC+ last November and are one of several crews completing an Atlantic circuit with ARC Europe.
They said, "ARC+ was our first rally and we enjoyed it very much. We got to meet most people in the rally and it was really nice to get to know everyone before we set off. We found the World Cruising staff to be so helpful and for us it is one of the best things about the rally. To have that support is great."
All starters for ARC Europe and ARC USA are set to depart on Saturday 9th May.
Read More About