The Bermuda Hospitals Board [BHB] said they are happy to report the first case of therapeutic plasma exchange on the island, a procedure which patients previously had to obtain overseas.
On Friday 10 July, BHB Consultant Hematologist Dr Eyitayo Fakunle [Department of Pathology], Intensive Care Unit [ICU] Clinical Manager Veronica Coburn and ICU Nurse Educator Evelyn Brown performed the first therapeutic plasma exchange on a local patient. In the past, patients requiring this treatment had to be referred overseas.
Left to Right: ICU Nurse Educator Evelyn Brown, Dr Eyitayo Fakunle, the portable dialysis machine, David DeSilva, ICU Clinical Nurse Manager, Veronica Coburn and ICU Nurse Karen Gooden.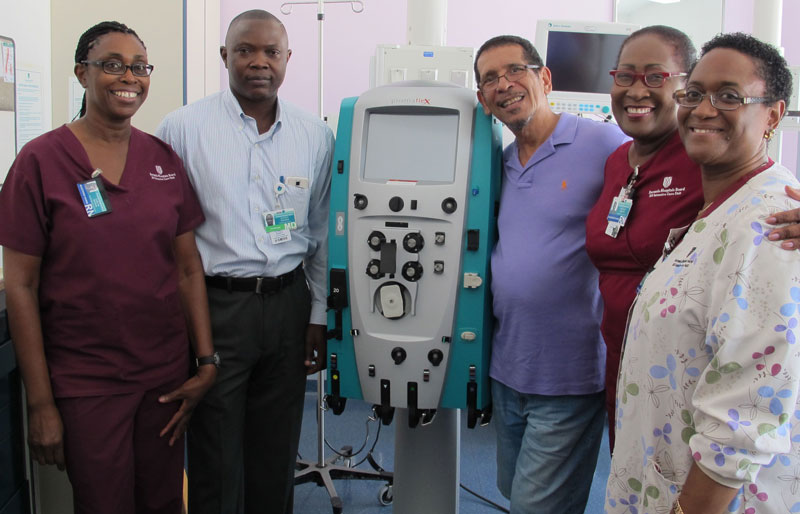 "We are pleased to provide this treatment in our facility," said BHB Chief of Staff Dr Michael Weitekamp. "It means better outcomes for patients as they can be attended to sooner and with less interruption to their normal routine. In this case the patient was not even required to overnight in the hospital."
Therapeutic plasma exchange is a procedure which replaces the plasma – the liquid portion of the blood. There are quite a few conditions which can be treated using this method, including thrombotic thrombocytopenic purpura, acute Guillian Barré syndrome, myasthenia gravis, hyperviscosity syndromes [where the blood becomes very thick], antibody-mediated renal transplant and Fulminant Wilson's disease.
BHB refers between two and four people a year for the treatment overseas. "We are pleased to add this treatment option which improves the level of access for residents to quality on-island care," said BHB Chief Operating Officer Scott Pearman.
Dr Fakunle, a few BHB nurses and Chief of Anesthesiology Dr Richard Hammond, were trained on existing equipment in the ICU to enable patients to remain in Bermuda for treatment. This equipment is a multifunctional portable dialysis machine, which was used to deliver the three-treatment set to the patient last week.
The patient, well-known photographer and Mall Studio owner David DeSilva, said he noticed a dramatic improvement just a day after his first treatment on Friday. The second was given on Monday and the third on Wednesday.
"Each time I do it I feel much better," he said. "I haven't been feeling good since last September. For several months I've experienced fatigue and a lot of pressure in my head. Some days my legs felt heavy like solid blocks on concrete. I would struggle with tiredness just walking in my back yard. Now I feel a lot more energetic. I feel alive again."
An avid golfer, Mr DeSilva said he's looking forward to being able to easily play a round of 18 holes again, saying: "I used to play the front holes but then did badly on the back because I'd be so tired. If I can get back out on the golf course that will be great."
He had high praise for the care he received at King Edward VII Memorial Hospital, saying:"The doctors fully explained the procedure to me, making me aware of the benefits and possible side effects, and the nurses have been great. I want to thank them for my care."
Treated in the ICU, Mr DeSilva said he was very comfortable and calm. "It was a lot more convenient than going away. I had access to my family and my normal life. I went into the studio and did some work between my treatments.
"Apart from having a catheter inserted and a few needle pricks, I was very comfortable. I was able to have my lunch, read my golf magazines, make phone calls and just use it as a day to relax."

Read More About