The Bermuda Government today [July 14] released the 2014 report "Bermuda in the World Economy".
"The report, commissioned by the Ministry of Finance and the Washington D.C. office, was prepared by Transnational Analytics LLC president and top economist Charles Ludolph, a former deputy assistant secretary of the U.S. Department of Commerce," the Ministry said.
"The study focused on the role that Bermuda plays in the world economy as a leading supplier of insurance and financial services, an innovative financial center, and a provider of key transport services to the United States, Europe, and Asia.
"It closely examines the success of Bermuda businesses and government in adapting to the new rigors and uncertainty of the world economy during the recession and post-recession period.
Chart #1 extracted from the report: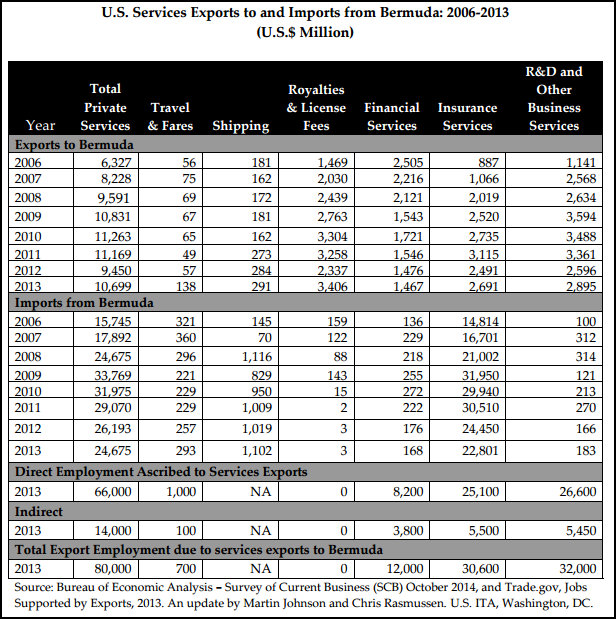 "It is the latest in a series of reports on Bermuda's significance to the major economies of the world, including the United States and Canada, France, Germany and the United Kingdom, as well as China and its financial centers of Singapore and Hong Kong.
"A new element in this study is the analysis of investment flows between Bermuda's financial markets demonstrating the positive effect of Bermuda's investment laws on job creation and the financial health of U.S. pension funds and state governments.
"It also explains how Bermuda competed in the world economy during the 2008-2013 global financial crisis and expanded support of international financial investment in aircraft, insurance, and shipping, particularly for the United States, Ireland and the United Kingdom.
During the 5 year period, major economies increased their investment into Bermuda financial markets significantly, financing wide body commercial jets, the world's energy tanker fleets, and catastrophic loss risk management.
Bermuda's companies supported at least 500,000 jobs in the eight major nations analyzed, including 300,000 in the United States, 70,000 in the United Kingdom and 25,000 in Canada.
"By 2013, Bermuda's trade in goods and services with the eight economies analyzed rose to pre-crisis levels of $50 billion and Bermuda stood out as one of the chief services trading partners with Europe, Canada and the United States.
Chart #2 extracted from the report: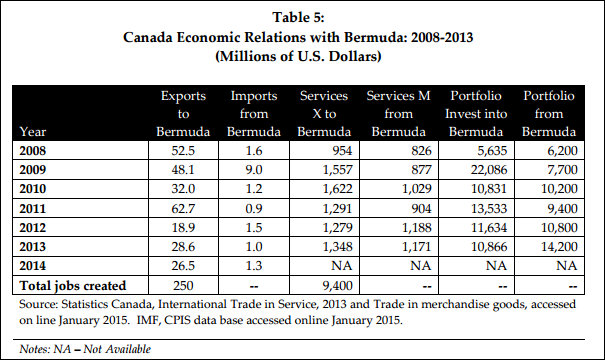 "The study reviews how deeply the world economy changed as a result of the long global economic recession and how Bermuda's role changed along with it.  Since 2007, Bermuda stood out as a leading global reinsurance provider with one third of the top global reinsurance companies. The captive insurance industry and the commercial insurance market in Bermuda are significant players in US healthcare.
"For North America, Bermuda supported 50,000 jobs in the wide-body commercial jet market when emerging national airlines and aircraft leasing companies obtained $6 billion in the Bermuda investment market which was otherwise unavailable.
"Since 2010, U.S. state governments raised over $5 billion in the Bermuda financial market to establish additional property loss coverage for earthquake, wind and fire disasters.
"As a result of the financial crisis, U.S. and Canadian pension funds and local governments are investing at least $6 billion in Bermudian investment vehicles from ILS investment companies to equity in Bermuda aircraft Special Purpose Vehicles to overcome investment constraints in traditional banking and capital markets.
"Bermuda's investment sector supported Asian investors in Hong Kong and China to raise more than $60 billion in private investment capital, contributing significantly to China's effort to overcome its banking and capital market restrictions and to achieve much needed economic development.
"Bermuda holding companies are an essential part of China's economic development strategy.  Banking, capital market and exchange rate restrictions in China make it difficult to raise debt and capital to finance economic growth.  Bermuda regulatory stability provides the access to capital markets necessary for China to achieve its economic development goals.  China placed $100 billion in Bermuda to access needed private equity and bank finance.
"For Europe, Bermuda's economic role has expanded as the European reinsurance industry sought growth.   Led by Lloyd's reinsurance syndicates, European insurance companies have expanded their participation in Bermuda with billions of dollars of investment.
"UK insurance companies have opened 12 special purpose insurers in Bermuda since 2011 raising $700 million in needed capital for coverage of insurance liabilities.  Bermuda companies now represent 26% of Lloyd's overall insurance writing capacity.  German insurance companies raised an additional $1.5 billion through Bermuda Special Purpose Insurers.
Chart #3 extracted from the report: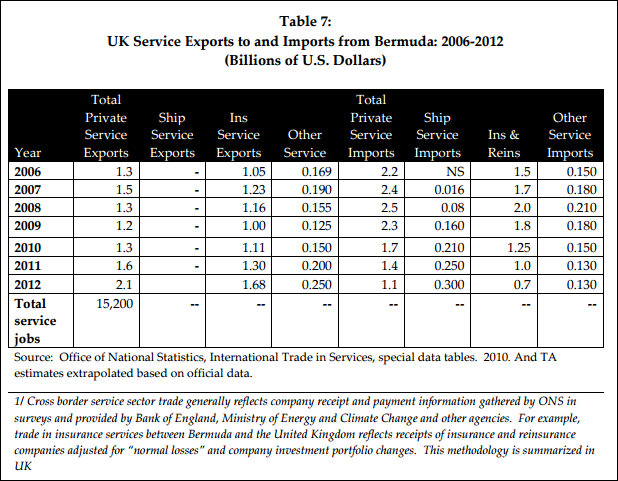 "The study captures the strength of Bermuda as a financial funding center for business sectors like aircraft and ship finance, reinsurance and alternative risk management finance, meeting needs of Asia, North America and Europe.  The study indicates that Bermuda shows particular capacity in helping world economies overcome finance constraints caused by regulation and economic crisis."
Deputy Premier and Minister of Finance Bob Richards said, "This analysis will heighten awareness of the substantial role Bermuda plays in the support of global commerce.
"The report has culled financial data from major trading nations to show Bermuda is a key business partner that provides the mature, reliable, legal, regulatory and professional capacity to enable innovative solutions to business issues.
"It also underscores the view that Bermuda as a financial centre is in a prime position to continue delivering highly sought after financial services solutions to institutions in an evolving business environment."
Cheryl Packwood, Bermuda's Overseas Representative in Washington said, "Bermuda's world-wide reputation for regulatory stability and innovation comes across here as key to its success as a funding center for reinsurance and transportation.   Investors and borrowers in Europe, Canada and the United States depend on Bermuda as a key part of their post-crisis investment strategies."
The full 84-page report follows below [PDF here]:
Read More About