[Written by Shari-Lynn Pringle]
In May 2015, a contingent of Bermudians traveled to Miami, Florida to attend their first World Spinning® and Sports Conditioning Conference [WSSC], completing an eight hour class with Spinning® Master Instructor Ralph Mlady that ended with an assessment that would see them join the ranks of some 200,000 Spinning® Instructors worldwide.
Star 1 Certified Spinning Instructor Shari-Lynn Pringle said, "I feel this is an accomplishment worth sharing so I asked each of them and their gym to offer a few words by way of introduction. Some did, some didn't. That doesn't stop me from introducing them all to you however and wishing them each every success in their respective fitness journeys.
"Yes, there are many other established Spinning® Instructors on the Island and just like them, everyone has to start somewhere.  So if you are planning to add Spinning® to your fitness regime, please consider giving one of these Instructors an opportunity to help you get addicted.
"And for those of you that have been out there whether as an instructor or a participant take time out of your schedule to show the newbies some love."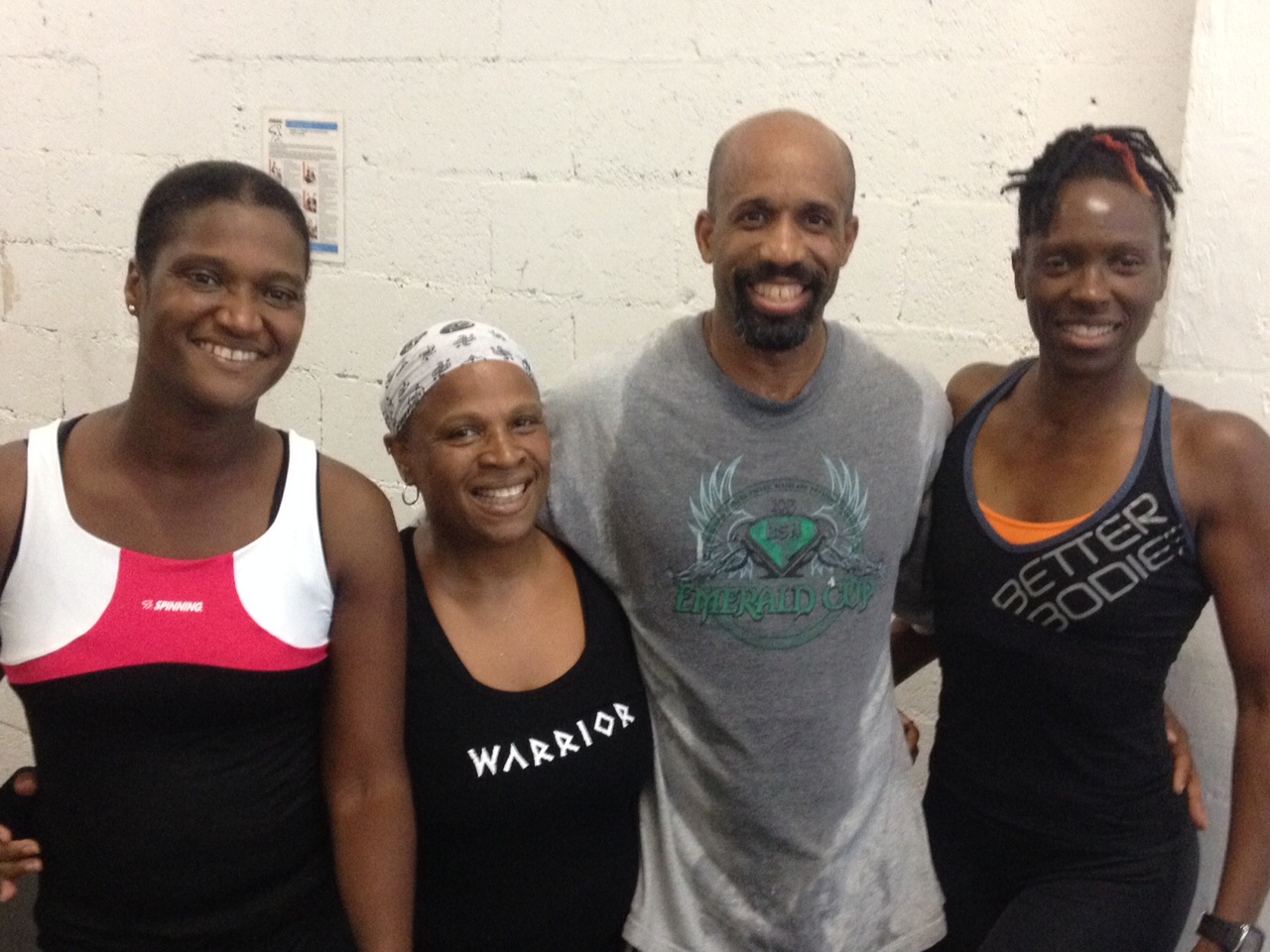 C. Anthony Francis said, "My journey to certification began over a year ago at the suggestion of fellow Spinning® Instructor Annette M. Eve. It was in the middle of conversation and the suggestion "Let's get certified at Spinning" just came out of the blue.
"The planning began almost immediately having to research to find out which certification was the most effective for use in Bermuda. The research revealed that there are several possible paths to certification and that there is a marked difference between Spinning® and Indoor Cycling.
"We chose to go with the Spinning® program because it represented a structured and developed program which was ideal for my personality. Spinning® is a program, it is not simply a matter of getting on a stationary bike and "turning the legs over", the more I researched the more I began to understand the knowledge of Spinning® Instructors and how valuable it really is to be a Certified Spinning® Instructor.
"Fast forward to May 28, 2015 and I am sitting in Miami, Florida in a conference room surrounded by all things Spinning®, and as is typical I have discovered that there are several more Bermudians also in attendance. Certified Spinning Instructor Level I was not simple but, as with every group of likeminded people, the course was made simpler because we were there as team Bermuda.
"Eight grueling hours later, we had enough information drilled into our brains that allowed us to take the certification test but that would have to wait until we returned to the island.
"Two full weeks later we are all excitedly messaging each other as the test FINALLY becomes available and the Bermuda Fitness industry gains new talent as the news that each one of the six Bermudians that attended WSSC 2015 in Miami has achieved a successful passing mark begins to make the rounds on social media.
"I am particularly excited as my gym, Magnum Powerforce Gym, which has been looking for Spinning Instructors, immediately invited me to facilitate one of their Spinning classes. Newly certified, I conducted my first class "Throwback Thursday" Spinning – "Spin, Sweat, Sing" which by all accounts was successful.
"Now #tbtspin is a fixture on the weekly schedule at Magnum Powerforce Gym on Thursdays at 5:45pm.
"Who would have thought that a simple conversation and some desire would produce so much so quickly. I am a certified Spinning® Instructor who loves to see people achieve their fitness goals one revolution at a time."
Karen Magnum, owner and Directing Manager of Magnum, said, "I am very happy to now have Anthony Francis teaching Spinning at Magnum Power Force Gym as well as being a personal trainer.
"I congratulate all the participants and hope more Bermudians will continue to get certified in teaching classes and helping people to reach their fitness goals."
Shabion Postlewaite, who started taking classes about five years ago, said, "I was hesitant as I thought it would be too challenging and always thought you had to keep up with everyone in the class. I tried it and loved it. I regularly spin several times a week at various local gyms recognizing that it is good to try different instructors.
"After I saw my fitness levels increasing and my ability to keep up with the instructors I decided to attend the WSSC Conference which was held in Miami May 2015. I completed the Level 1 Spinning Instructor Course. I plan to teach Spinning at one of the local gyms in the near future.
"My advice to those who are thinking about attending spinning classes is Go For It. I have noticed you either like it or you don't. You have to remember there are always alternatives to the advanced moves just keep on pedaling and go at your own pace.
"The important thing is you are being active and burning calories, which is a move in the right direction."
Annette Eve said, "My  journey started in December 2014 when I was looking for a different cardio to do, as a part of my preparations for the 2015 BBB&FF Night of Champions. After much convincing, I took a Spinning class at Magnum Powerforce Gym with Sandra "Smokey" Simons and the rest is history.
"I enjoyed the class, burned over 580 calories, returned the next week and haven't stopped. In March this year, I started talking about getting certified and Smokey told me about Mad Dogg Athletics conference in Miami. I spoke with my boyfriend about it and arrangements were made for us to get certified together.
"At the time, we had no idea anyone else from Bermuda was going. We went to the conference in May and took the certification exam in June."
Ralph Mlady, Spinning® Master Instructor:
"My fitness journey started several years ago with weight training.  That got me into bodybuilding competitions and the Figure category which I have competed in for several years.  My personal Trainer, when I can afford one, is Carmichael Bryan of Positive Results positiveresults.bm.  He's simply the best.
"I hope to find work as a Spinning Instructor with a local gym and am also studying for my Personal Trainer Certification with A.C.E., The American Council on Exercise. I enjoy Spinning and hope to motivate class participants to keep their heart rates up, feel the music and enjoy the ride."
Shari-Lynn Pringle continued, "I had taken a spinning class several years before 2013 and hated it. Well – I didn't actually hate the class, I hated how my butt and parts I couldn't see felt for several days afterwards. After being coerced to join in at a class at a new local gym in October 2013, I was quickly addicted and haven't stopped.
"WSSC and getting certified was talked about often at my former gym and several people were interested in becoming certified – which, by the way, doesn't mean you have to teach.  It's like a taxi license, it's good to have just in case.
"I found the whole experience of WSSC enjoyable. The camaraderie with other attendees whether it was their 1st or 16th conference, the sharing of knowledge and I was especially thrilled to ride in two theme rides with over 300 others – Josh Taylor's Warrior Ride and the Miami Team Fuego Ride.
"Both pushed you to your limits and occurred at the end of the day after you may have already been in the saddle for two, three, or four hours. Along with the many informative sessions held by Master Instructors to help you become a better you and better instructor to others, shopping for Spinning® apparel at discount prices and seeing all of the other routes of fitness one can participate in under the Mad Dogg Athletics [MDA] umbrella, I was convinced that I had chosen the right organization to continue my journey.
"It has been exciting returning to classes as an Instructor because you have a better understanding of how all the pieces fit and it is incumbent upon you to do what the program teaches and recommends for yourself first – and then find your own style to communicate it to others.
"I'm enjoying learning, taking classes with other instructors on the island especially Anthony, Annette and Shabion, meeting and learning the different styles of the many instructors on the island while looking for a gym to call home, where I might also eventually teach.
"Studio One, Magnum and Courthouse have been very welcoming as I'm sure many the others will be. I'm especially excited about future travel and opportunities to take Spinning classes and education sessions with others on the same path.
Roger "Rock" Leverock and Tene Grant attended WSSC 2015 and became Star Level 1 Instructors.  They teach at Zoneworx Gym in Hamilton www.facebook.com/zoneworxgym which was opened in October 2013 by Cal Grimes.
Already a Spinning Instructor, formerly at Magnum Power Force Gym and now an Elite Personal Trainer and Spinning Instructor for Crunch-No Judgements, Bermudian DJ Bitsy attended her first WSSC to take advantage of the many fitness offerings under one roof, saying, "Be true to who you are.  Definitely learn different styles of training, different modalities but stick with what you are comfortable with because that's how you are truly going to affect somebody if it genuinely comes from you.
"For instance, if you absolutely love doing high energy endurance training, don't try to do a recovery ride where the energy is going to be a lot lower and it isn't naturally you. Be true to yourself and that will shine through in your instructing and of course, keep that rule Do No Harm first and foremost.
"No matter what you feel comfortable doing just make sure that everybody in your class feels comfortable and is safe getting to their goal."
Veteran Spinning Instructor, Gladwin Edness of Studio One said, "It is always good to see Bermudians enter the Fitness Industry.  When I started there was not that many at all. My advice to the new instructors is to learn as much as you can from different instructors, follow the Spinning® manual and develop your own style to your own music taste.
"Also invite some friends and their friends to your classes so they can give you constructive advice on how the class was.  Most of all, the first impression of your class to prospective clients is probably the only time to impress them.  If it goes wrong, they may never come back.
"Asked how he felt when he saw so many Bermudians doing the instructor training he responded that WSSC is a great place to get certified because you have access to many different Master Instructors. Many of them are easy to talk with and you can build friendships to vary your craft for teaching Spinning.
"It is also a conference where you can see Instructors varying styles and their music selections to different Spinning profiles."
For more information about Spinning® and Mad Dogg Athletics, visit the website; click for more information on WSSC, Positive Results, Magnum Powerforce Gym, Courthouse and Studio One.
Shari-Lynn Pringle is a Star 1 Certified Spinning® Instructor roaming Bermuda for the right saddle and gym. She is addicted to fitness having lost 100 lbs since March 2013 through a combination of diet and exercise which included walking and Spinning. She hopes to spotlight the many Instructors available on island to feed her addiction and to help and encourage those reluctant to take that first step to #JustMove

Read More About
Category: All, Entertainment, News