The Bermuda Cricket Board [BCB] announced the safe arrival of the two developmental squads at Bedes school in Sussex yesterday.
The BCB U14 Development Team and the U16 Development Team will be in the UK for 12 nights and 13 days on an intensive cricket playing and training tour. Each squad will play six matches, have a tour of Lords, watch the T20 quarter-final match between Kent and Lancashire and a training day with specialist coach Gary Palmer.
2015 BCBNA UK Tour Development U14 & U16 Teams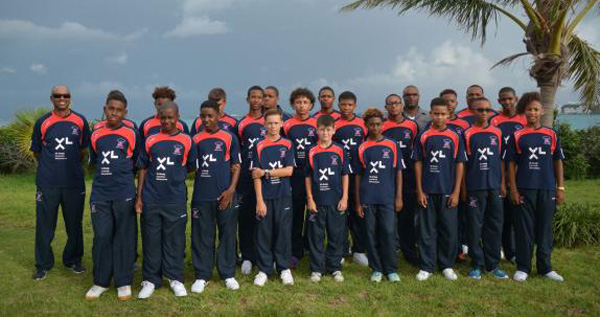 The squad includes 20 [including one female : Leilanni Nesbeth] Bermuda based players, 2 Bermudian UK based players, one player from Cayman Islands and 3 UK girls selected from the Bedes girl's cricket program[Ariana Dowse, Polly McCarthy and Ellie Robinson]
BCB Academy manager, and ICC Development Award winner, Kellie Smith is the tour manager and is accompanied by 3 coaches:
Head Coach – Clay Smith
U16 Coach – Grant Smith
U14 Coach – Cal Waldron [ICC Global Development Award Winner]
Neil Speight, CEO of Bermuda Cricket Board said, "We are very grateful to the continued support of the Bank of Bermuda Foundation and the XL Foundation that allows us to provide year-round elite training to our young cricketers.
"The funding for the tour is completely outside of corporate support and I congratulate those parents and families that worked hard at our various fundraising activities to give their child a wonderful cricketing experience.
"I also wish to record our immense gratitude to the generous hospitality of Bedes School who have provided their facilities at an excellent rate. I thank Head Master Richard Maloney, Admissions Manager Sally Wellings and Head of Operations David Byrne specifically for their incredible contributions."
Mr. Speight concluded by saying, "I have had many opportunities to meet the parents and close family members of all our young players and I am very confident that they will represent themselves, the BCB and Bermuda in a excellent manner."
The Under 14 National Team schedule whilst on tour is as follows:
Mon 10th – Arrival & Newbury Visit
Tues 11th – Tour of Lords 11.00 NW8 8QN
Wed 12th – 1300 Game at Bedes v North Essex
Thurs 13th – 1100 Game at Bedes v Outer London
Fri 14th – Training at Bedes
Sat 15th – T20 Blast @ Kent CT1 3NZ, 1430 start
Sun 16th – 1230 Game at Watford CC
Mon 17th – 1100 Game at Bently Cricket Club, Coxtie Green Road, CM14 5PN v Essex Central
Tues 18th – 1100 game at Bedes v TvN
Wed 19th – Crawley Visit
Thurs 20th – 1100 Game at Bedes v Spencer
Fri 21st – London Visit
Sat 22nd – Return Home
BCBNA U14 Development Team
Alex Withers-Clarke
Dominic Sabir
Jamar Stovell
Jarryd Richardson
Leilanni Nesbeth
Ariana Dowse [by invitation]
Polly McCarthy [by invitation]
Ellie Robinson [By invitation]
Miguel Postlethwaite
Nirobi Mills
Tai Cariah
Justin Smith
Revaughn Johnson [Cayman Islands]
Marcus Scotland [UK based]
The Under 16 National Team schedule whilst on tour is as follows:
Mon 10th – Arrival & Newbury Visit
Tues 11th – Crawley Visit
Wed 12th – Tour of Lords 11.00 NW8 8QN
Thurs 13th – Training at Bedes
Fri 14th – 1100 Game at Bedes v TvN
Sat 15th – T20 Blast @ Kent CT1 3NZ, 1430 start
Sun 16th – 1100 Game at Bedes v North Essex
Mon 17th – Noon Game v County Norfolk Away
Tues 18th – 1100 Game v Oxfordshire @ Hurstpierpoint
Wed 19th – London Visit
Thurs 20th – 1230 Game at Watford CC
Fri 21st – 1100 Game v Guernsey @ Preston Nomads
Sat 22nd – Depart
BCBNA U16 Development Team
Azar Morrissey
Cameron Jeffers
Dalin Richardson
Jade Morrissey
Jabari Darrell
Tyler Kelly
Kameren Mason
Kristian Singh
Logan Henschke
Torleair Caines
Rudi Butterfield [UK based]
Nzari Paynter

Read More About