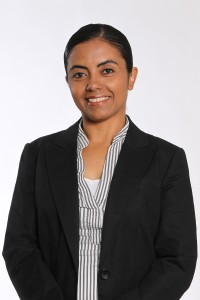 The Duperreault Fellowship, an endowment fund that supports the professional development of Bermuda residents working or studying in the field of substance abuse, today [Aug 3] announced that counselor Isis Wellman is the 2015 Duperreault Fellow.
Ms. Wellman's award will fund her studies for a Master's of Science degree in Clinical Mental Health Counseling at Walden University. She currently holds the International Certified Alcohol and Drug Counselor [ICADC] certification from the Bermuda Addiction Certification Board.
"We are delighted to announce Isis Wellman as our 2015 Fellow," said Chair Katherine Watson. " Isis' unwavering commitment to assist those struggling to address the effects of alcohol and drug abuse exemplifies the continuity of professional care that The Duperreault Fellowship seeks to establish in Bermuda.
"This is the second time that we have supported Isis' studies – she was our Fellow in 2007 – which underscores our belief in her dedication to this field and to her clients' long-term recovery."
Isis Wellman's exposure to the field of addiction began when she volunteered with the Campus Ministries as she pursued her psychology studies at Andrews University in Berrien Springs, Michigan. She graduated with a Bachelor's degree in pre-professional psychology with a minor in Family Studies.
In 2001, Ms. Wellman started working at the Madison Treatment Center for Children in South Bend, Indiana, which specialized in treating children with behavioral / mental health problems. In 2004, she moved to Bermuda with her Bermudian husband and, in 2006, joined the Women's Treatment Center of Bermuda, working with women suffering from alcohol, substance abuse and chemical dependency problems.
Currently, Ms. Wellman is employed at Turning Point Substance Abuse Programme.
The Duperreault Fellowship was established in 2004 when a $500,000 donation contributed by insurance veteran Brian Duperreault and his wife, Nancy, was supported by a $1 million donation from The ACE Foundation.
More information about The Duperreault Fellowship is available at www.duperreaultfellowship.org.
Read More About