The Bermuda ArtWalk is set to be held on October 25, marking its sixth event in St. George's, with the theme 'Masquerade,' taking place from 2.00pm to 6.00pm in the Olde Towne, continuing from 6.30pm to 8.30pm at Tobacco Bay.
A spokesperson said, "The heart of St. George's will be transformed into an interactive arts centre.  The town's restaurants, shops, and cobblestone streets will serve as galleries to highlight the dynamic creations of local artists which include; cedar carvings, paintings, graffiti art, weavings, sculpture and installations, as well as the works of filmmakers, musicians, dancers and a fashion show."
"And it's not too late to share your own creative spark. There is still opportunity for buskers, artists and vendors to get involved and participate in Sunday's event, which will run from 2.00pm to 6.00pm in the Old Towne followed by a shuttle to Tobacco Bay for a performance at the beach from 6.30om to 8.30pm, all free.
"The Art Walk has always prioritized showcasing the diversity of local art, including the work of Bermudians who have left the island to further their creative careers. For each event a handful of Bermudians are brought home to share their development, many of whom couldn't otherwise afford to come back and stage a performance."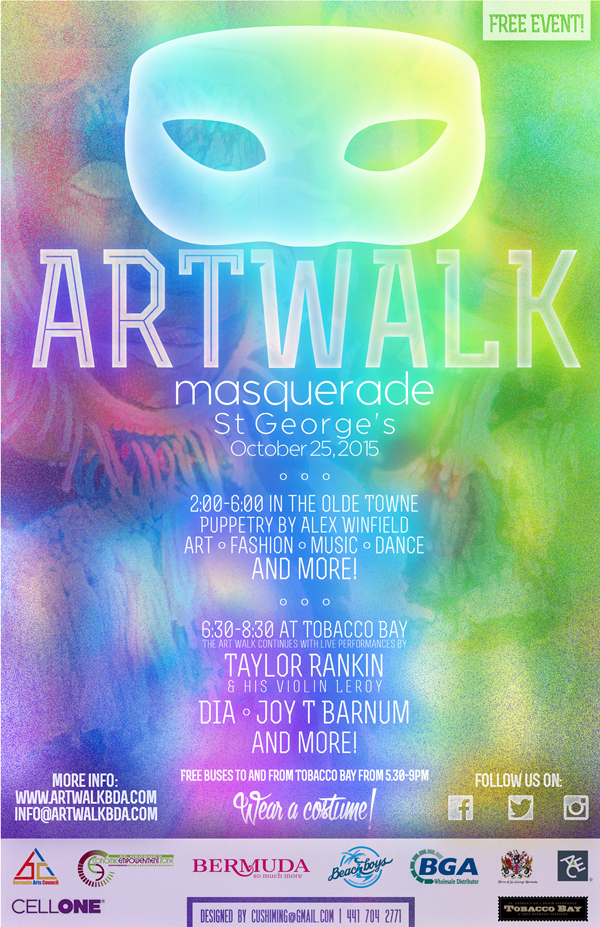 "This time, puppeteer and theatre maker Alex Winfield will be engaging audiences in the streets of St. Georges and Taylor Rankin, his violin Leroy and drummer Dwight Hart will entertain at Tobacco Bay.
"Numerous other local acts will be showcased and other organizations are contributing to the event, such as Kaleidoscope Arts Foundation and the Garden Club. There will be a Plein Air competition that day with a cash prize, and The St. George's Olde Town Market will also be on during the event.
"The public is invited to get into the spirit and wear a mask fitting of the theme "Masquerade" and come out and enjoy discounts, giveaways, and many other surprises."
"St. George's is the perfect stage for this event and we are excited to participate in efforts to enliven and showcase the Old Towne," said event organizer Ami Zanders.
For more information, visit the ArtWalk website or Facebook page, or email info@artwalkbda.com.

Read More About
Category: All, Entertainment