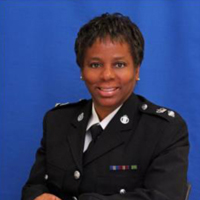 Last night [Oct 8], the Bermuda Reserve Police hosted their Change of Command Ceremony in front of more than 300 people at the Police Compound in Prospect, with the event an historic one as Sandra Beach [pictured left] was named the first woman to be installed as commandant.
In accepting the post, Commandant Beach said, "I believe it is important for women who do reach the top to help build an overall environment in which all women can succeed. When women are out of sight, they are out of mind.
"Throughout history women have been discriminated against in many aspects of life including employment. There has been some progress, however the work field today is still harsh towards women and many organizations are fighting to change this.
"That is why this Change of Command Ceremony and my new role as the Commandant of the Bermuda Reserve Police is to honor women who have broken down barriers and who have helped to lead the way for other women through service in a non-traditional career.
"My vision for the Bermuda Reserve Police is to continue to support the Bermuda Police Service in all its endeavors, increase the number of constables, training for all our Reserve officers and to keep that training up to date."
Commandant Beach's Change of Command speech follows below:
Good afternoon ladies and gentlemen.

In 1899 women in Washington were given the right to vote.

In 1902 women were able to vote and be elected to Parliament – Australia was the first country in the world to allow both these things to happen.

In 1903 four women stood for election, none were successful, but they were the first female candidates in the British Commonwealth.

There have been many first for women since then and today in 2015 the Bermuda Reserve Police has its first female Commandant.
Throughout history women have been discriminated against in many aspects of life including employment. There has been some progress, however the work field today is still harsh towards women and many organizations are fighting to change this.

That is why this Change of Command Ceremony and my new role as the Commandant of the Bermuda Reserve Police is to honor women who have broken down barriers and who have helped to lead the way for other women through service in a non-traditional career. This Vision/Prayer/Hope is the idea of having a good job and achieving the top job, must truly be within the grasp of everyone.

I believe it is important for women who do reach the top to help build an overall environment in which all women can succeed. When women are out of sight, they are out of mind.

I grow up in a home with two loving parents Judith and Raymond Beach who let me know that I could achieve anything and become anything I wanted to be". For that I want to say thank you mom and dad!

My great-grandpa Henry Montgomery Beach was the first West Indian Police Officer to work with the Bermuda Police Service, so I guess you can say policing is in my blood. Little did I know when I joined the Bermuda Reserve Police 20 years ago that I would find it so challenging, so exciting and so rewarding all at the same time? Now that's what I call an amazing career!

Mr. Eugene Vickers saw potential in me when he was our Commandant and help me to move up through the ranks in the Reserves. He said he always wanted to see me become the first female Commandant. That's what I call having a vision. Mr. Vickers is not here with us today, but if he was he would be proud of this moment. I would like to send my thoughts and prayers out to his family.

I would also like to acknowledge and thank Commandant Roberts for allowing me to grow through the ranks with him, for his encouragement, his support Thank you.

It will be remiss of me if I did not take the time to thank and acknowledge the support and encouragement of former Commandant Moore and Commandant Lewis as well.

Commissioner Michael DeSilva, thank you for believing in me. When I received the email that I got the post as Commandant the tears just rolled down my eyes.

I would also like to thank Deputy Commissioner Paul Wright, the rest of the Senior Command Team and staff of the Bermuda Police Service. I would like to say a special thanks you to Chief Inspector Calvin Smith and his team for putting this day together and to Inspector Charlene Thompson for your support and encouragement.

My vision for the Bermuda Reserve Police is to continue to support the Bermuda Police Service in all its endeavors, increase the number of constables, training for all our Reserve officers and to keep that training up to date.

To 'MY' Senior Command Team of the Bermuda Reserve Police, I look forward to our continued working relationship and to moving ahead together on this journey. To the Reserve Police, we are seeing changes in the organization, we will experience challenges, but those changes and those challenges I know we are up for it. We are a team and I will need your support if we are to be successful. So I would like to say thank you.

To the staff at TCD thank you! Your support has meant a great deal to me, again thank you for supporting me on my journey.
To my son Henry, thank you for allowing me to spend time away from you not only at my nine to five job, but to give my service to Bermuda in the role of a Reserve Police Officer. Your support, encouragement and love mean the world to me.

To the rest of my family and friends I would not be the person I am today without your support and love. I would like to thank you for always encouraging me in all that I do and ask that you continue to be my rock.

To my Lord and Savior Jesus Christ, who without him none of this would be possible today. You said to trust in you with all my heart and lean not to my own understanding; My trust in you helped me to change my mind, apply for the Commandant Post, and to achieve what Commandant Vickers spoke over me many years ago.

In closing I will leave you with this quote by Constance Baker Motley [First Black Woman in the U.S. to become a Federal Judge] –
"Something which we think is impossible now is not impossible in another decade."
-
The Bermuda Reserve Police 2015 Change of Command programme follows below [PDF here]:
Read More About