The Louis Vuitton America's Cup World Series Bermuda event will be broadcast to over 100 territories around the world as well as on large screens in Bermuda, and two local companies are part of making this happen, with both Crimson Multimedia and Great Sound involved in the production.
Crimson Multimedia has been contracted to deliver live video content on large Daylight screens and HD TVs throughout the Event Village.
The company will transmit a live satellite feed from the race course and show live footage of the activities on Front Street along with pre-produced video content exclusive to the Event Village Screens.
Another local company, Great Sound, is responsible for the daylight screens, stage, lighting and audio visual in the Fan Zone.
Crimson Multimedia's Lamone Woods: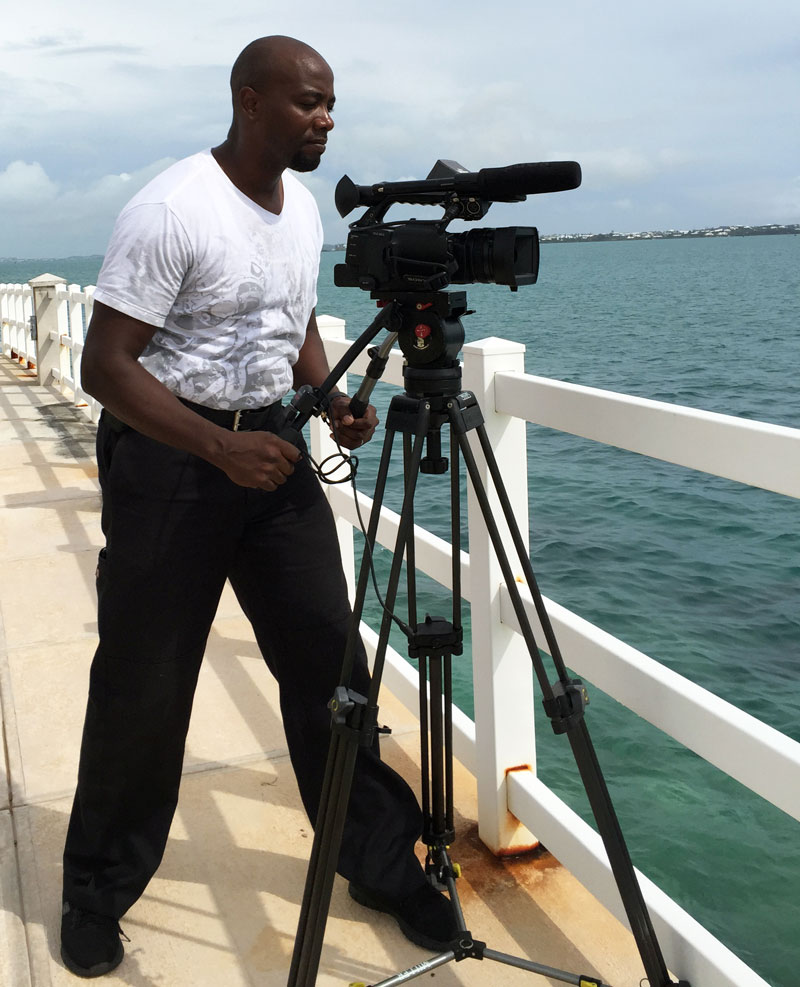 Mr Woods admits he was initially reluctant to respond to the RFP from the America's Cup Event Authority [ACEA], but was pleasantly surprised when selected for the contract.
"I have done this type of work before and I have all the equipment necessary. First I wasn't going to go through the trouble but so many people asked me if I was going to apply, I felt like, 'if I don't apply I will feel stupid," he said.
"At first I wasn't thinking I was going to get it. I didn't know who else had put in a bid or who else I was in competition with, so I just decided to do the best that I could."
Asked about the opportunity, Mr Woods said, "This is definitely an exciting opportunity. I can say this unequivocally that this opportunity would not exist for me right now without the America's Cup being here. I've gotten big opportunities from the AC. I'm very excited.
"It's almost like a thing whereas be careful what you ask for because these opportunities have come up so it's either step up to the plate or step off the plate. It's unchartered territory. Now I'm on the stage, it's an anxious feeling."
Mr Woods called the opportunity "once in a lifetime".
"I want to be one of those people who can say I was involved in it and played a part in making it a success in Bermuda. We're all doing our part to make this thing great and it make us look great on the world stage.
"I've never seen so many vendors, from different walks of life all pulled together. I've never been involved in something this monumental. This seems to have arms reaching everywhere from the Endeavour programme, to the vendors, to the food, to the video.
"It's basically touching the whole community. Opportunities have opened up for a lot of people and I'm sure there are more to come," added Mr Woods.
The event organisers have transported a helicopter to Bermuda for use in the broadcasts, with the shipping boat Oleander braving Hurricane Joaquin to deliver it,  and a "no fly zone" has been instituted over part of Bermuda for the event for the safety of the helicopter crew and the public.
The event organisers said the helicopter will be providing "dramatic overhead images of the racing and Bermuda," and the public should "be aware that the helicopter may be flying at heights much lower than normally allowed in Bermuda and also making rapid maneuvers as it follow the high-speed racing boats."
ESPN has acquired the America's Cup rights in more than 40 territories, including Mexico, Central America and South America; Fox Sports Australia will be broadcasting in Australia; Nc+ will be showing the event in Poland; Sport TV will be broadcasting the event in Portugal; CCTV Sports Channel will broadcast in China; CANAL+ will broadcast the America's Cup to more than 50 international territories, including France, Monaco, and French-speaking Switzerland; BT Sport will offer live coverage of all America's Cup racing to viewers in the UK and Ireland; and NBC Sports Group will also broadcast the racing.
Six America's Cup teams are set to compete on the America's Cup race course in the Great Sound, with official racing on October 17 and 18, with the event also due to include activities both on land and on-water, with food and drink vendors, exhibitors, a concert and more.

Read More About
Category: All, News, technology