[Written by Don Burgess]
His past does not determine his future.
Cervio Cox has been to prison — multiple times — but rather than letting that label define him, Mr. Cox made a decision to use his experiences as building blocks.
Now a personal trainer at Seaview Ultimate Fitness Club, he lives by the M.A.D.E. Movement brand motto — Mental Attitude Determines Elevation.
Mr. Cox told Bernews it was while he was in prison facing attempted murder charges that he decided to take steps in turning his life around.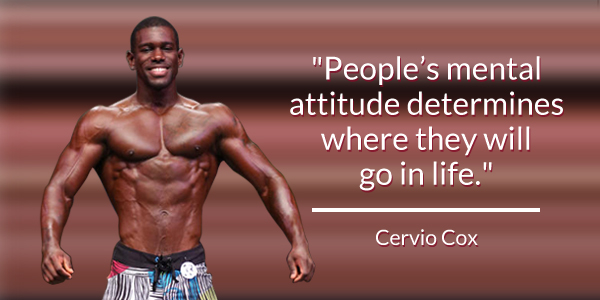 "I had a family, a daughter to take care of so it was a natural progression," Mr. Cox said. "When I had the police come knock on my door and disturb my momma, it wasn't a good look. I didn't want to go through that again."
He said while at Westgate he read and trained daily which enlightened him to different paths.
Mr. Cox said he realized he was making the same decisions and getting the same results. He admired people who kept themselves fit, regardless of whether they were in prison or not.
"It was a common thing that if you went to jail, you started working out and getting bigger," he said. "I started doing my pushups and was super serious about it.
"People were seeing my results — some were coming to me for advice on fitness so I gave them books on health and fitness. I was doing a lot of reading about it so I was able to give them some educated advice."
Cervio Cox training in the gym: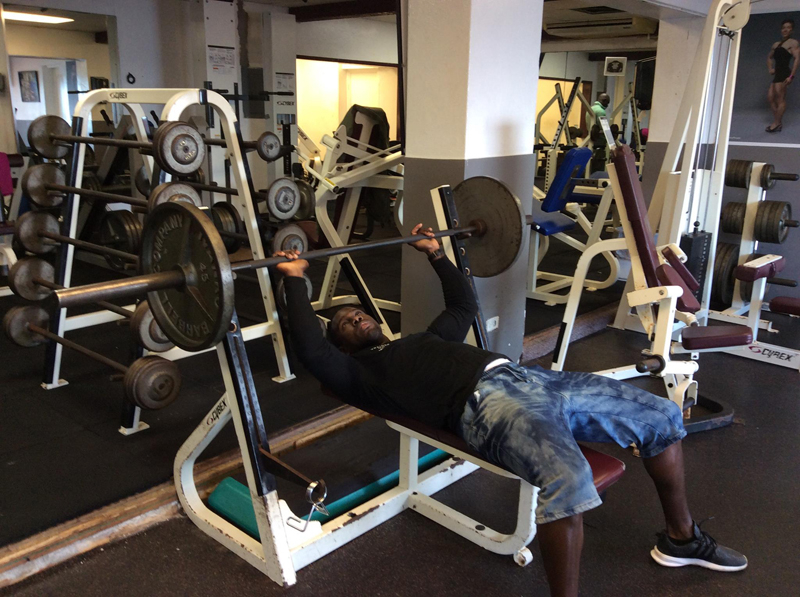 Mr. Cox said that was one of several moments that led him to become a personal trainer.
"I could be my own boss, which was something I've always wanted. Here I make my own times and create my own path."
He had previously spoken with Seaview's Ross Caesar prior to his last time being sent to jail so after being acquitted in November 2014, he pursued being a personal trainer.
"It was already simmering before I got out so I just turned the heat up." Mr. Cox said. "I knew the direction I wanted to go and Ross Caesar was super helpful."
He added that from all the reading he had done, passing the National Council for Certified Trainers Exam in April 2015 was easy.
Mr. Cox approached Seaview owners Melanie De Rosa and Percy Paynter about working there — they took a week to mull over the decision, but they believed that here was a young man who was getting his life together and deserved a chance.
He competed in two bodybuilding competitions last year, one in April the other in August finishing in the top three in his class both times.
Cervio Cox competing in a bodybuilding competition last year: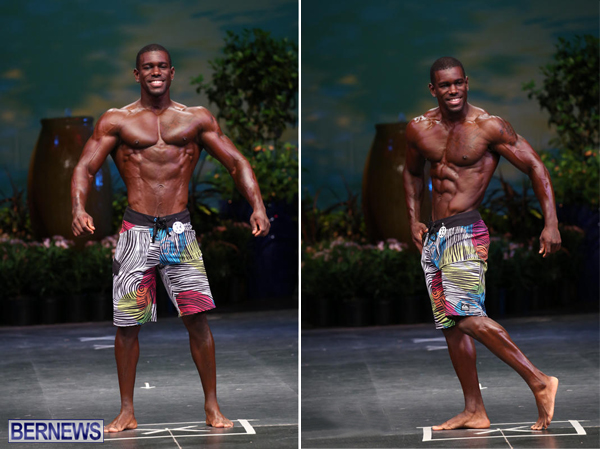 Mr. Cox is channeling his positive energy into a bright future and adds that others don't have to let their past circumstances drag them down.
"The Mental Attitude Determines Elevation just clicked for me," he said. "That's my belief — people's mental attitude determines where they will go in life.
"Everybody handles things differently, but I can say to anybody in a hard spot that somehow, someway you have to find within yourself the inner strength to keep moving.
"Even when you are down, accept the fact that you are down but don't dwell on it. Figure out what you're going to do to get yourself out of that hole.
"Start creating options and start creating pathways… to get out of your situation."

Read More About